The local service company,  Spectrum Carpet Cleaning first partnered with Effect Web Agency in 2014 when they came to us for a website redesign. In 2017, Spectrum began consulting with Effect on Local SEO strategies and SEO Content, taking advantage of Effect's professional copywriting services. 
From Jan 2017 through Sep 2019 the site's online visibility grew 439% just by publishing two SEO-friendly articles a quarter and investing in 3 hours of site optimization a quarter.
However, after several Google algorithm changes, the site started to see a decline in total keyword rankings starting in Oct 2019. The rankings did not recover during Q4 2020, so our SEO specialist approached Spectrum about using them as a Case Study to see if their rankings could be improved by moving them to Effect's SEO Package for one quarter.
"Even though Spectrum had been adding SEO content on a regular basis, I felt that a quick and concentrated effort to further optimize the site would bring some dramatic results. I was also concerned that their rankings had started to drop and felt that it must be related to their technical SEO." – Kim Schmutzler, Director of SEO, Effect Web Agency
Effect's SEO package includes monthly Technical SEO audits, optimization of the site's landing pages, and additional SEO content as needed.
Keyword Rankings (total number)

Almost immediately after starting the SEO Package, the number of keywords that were ranking on the website increased to an all-time high for Spectrum. As of March 31, 2020, the total number has increased by 140% since December 2019 and 16% over their previous high during September 2019.
SEO Effects on Website Traffic
The purpose of search engine optimization is to improve online visibility and rankings for popular search queries. The hope is that with improved visibility that more people will visit the website or call a business by clicking on the Google Business Listing that shows to the right of the search results.
Local service companies rely heavily on Local Pack rankings for traffic. So, to augment the increased visibility of the website, we updated Spectrum's local listings and optimized their Google Business listing. Our SEO specialist added the appropriate keywords to the company description and made sure that the business was properly categorized in addition to other Google Business best practices. 
As a result of the Google Business optimization the three-month strategic SEO campaign,  Spectrum's Q1 2020 website sessions saw an increase of 36.98% over Q4 2019 and 5.18% over Q1 2019. Furthermore, 74% of all Google Business discovery came through organic search.
Q1 2020 Sessions vs Q4 2019 Sessions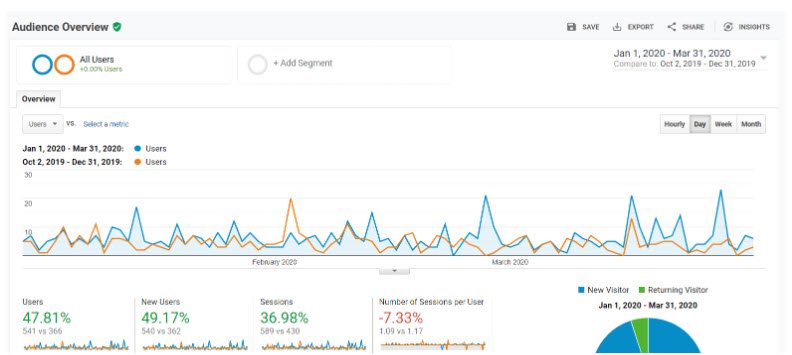 Q1 2020 Sessions vs Q1 2019 Sessions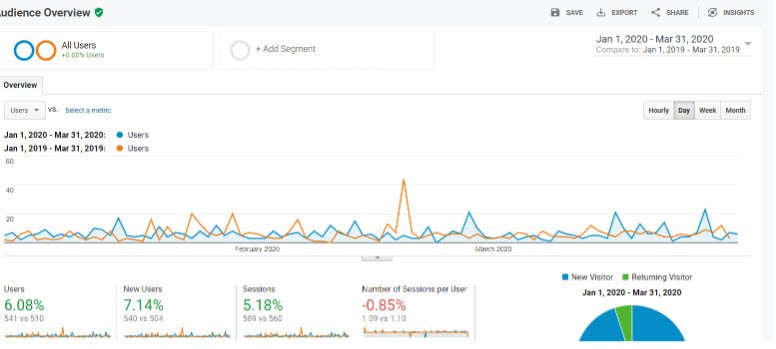 The Importance of SEO Content
It's interesting to note that 18% of visitors entered the website by clicking through one of the SEO articles written by our copywriting team and 12.4% entered through a landing page providing tips or other helpful information.
Is SEO worth the investment?
Consider that our concentrated SEO efforts began in January. Three months later, we can see the following results:
The total number of ranking keywords increased by 140%.

Website traffic increased by 36.98%.

Online visibility is at an all-time high.
"Cleaning" up their SEO has given Spectrum Carpet a competitive advantage and as we continue to improve their online visibility, their business will be poised for growth.
Effect Web Agency
Effect Web Agency is a different type of web agency partnership. You will find the team at Effect Web Agency easy to work with, results-driven, and focused on wielding the right tools to build your business.  Our reviews have made us the highest-rated web design and web marketing company in Northern Indiana or Southern Michigan and one of the few web design companies that offer a full package of services tailored to your needs.  We create online strategies for business growth that align with your goals.