Take a close look at the first page of Google's search results and notice that the top spots contain Google Ads. If you move down the page, you see that below the ads are all the top local search results. Even further down the page, you find the organic results (SEO). Most people understand how to show up at the top using AdWords. What might not be as clear is how local search works.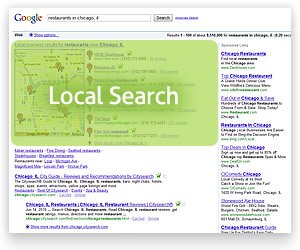 First, let's clarify what we mean by local search and then we will explore how local search works. Local Search is where your business is listed in a directory by location, or listed in "local" results on search engines. For instance, when someone searches for "web design company in Warsaw, Indiana" the top results are all located in or near Warsaw, IN.
Local Search is not the same as natural search engine rankings or Pay-Per-Click advertising.
How Local Search Works in Your Favor
Being "everywhere" contributes to your website's credibility in the eyes of Google and other search engines. Thus, it tends to improve your natural search engine ranking over a period of roughly six months. So even if you don't want local customers, your SEO rankings are important for you, and this is one of the easiest ways to improve them. Local search is not the only SEO method you should employ, but it is one of the few "one-time" things that does help.
By optimizing your site for local searches, you'll get some level of traffic you wouldn't have had otherwise. An added benefit is increased conversions. Because your local listing is usually found by someone searching for particular services or products, you get qualified leads coming to your site.
Which Local Search Websites Are the Best?
There are dozens of Local Search websites and directories. The most popular are Google Maps, Yelp, Bing, Yahoo, and Best of the Web.
How Much Traffic Comes from Local Searches?
The number of visitors you receive depends on a number of things:
The population of your city and how far you are from the center of the city

How well you titled and presented your business listing

The level of credibility your website has in Google's eyes (this helps your ranking in Google Places)
Roughly speaking, you could get anywhere from one person a month to a couple thousand, depending on the factors above. The only way to know is to try registering with local search directories.
How Long Do Local Searches Take to Set Up?
If you go to each of the five directories mentioned above and reuse the text you submitted for each, it may take around three hours. However, there are over a hundred local directories. If you submit your information to all of them, it can take as much as 100 hours of time.
We recommend listing your business on sixteen of the major local search directories and 50 of the small directories. You can do this yourself or hire someone to manage your local listings for you. 
Hiring a digital marketing agency to help optimize and update your local listings is a great way to ensure maximum benefit from your local listings while simultaneously freeing yourself up to focus on other things. Spending your time trying to learn how to effectively manage your listings and improve your Google rankings can be difficult. Reach out to a digital marketing expert for help. 
How Much Does It Cost to List in Local Directories?
Doing it yourself costs nothing. Local directories offer free listings. However, many local directories promote advertising options that may be worth investigating. If you're interested in this, I recommend looking into advertising with Google Adwords and niche directories.
For a flat fee, Effect helps you optimize your local listings and submit them to the appropriate directories. Each one is manually entered by real humans to ensure quality.
The Top 16 Local Listing Directories
We recommend listing with each of the following and also 50 smaller directory listings, including up to ten niche directories.
Google+

Yahoo / Bing

Facebook

Foursquare

Twitter

Yelp

Superpages

Yellowpages.com

Citysearch

Local.com

Infogroup

Localeze

Factual

Best of the Web

HotFrog

Acxiom
These names by no means make up an exhaustive list, but they are the most widely recognized local directories. Listing your business with them should result in improved Google rank as long as you meet Google's requirements for a mobile-friendly site.
Why You Need to List in Local Directories
Now that Google gives precedence to local listings, it is important that you take advantage of this easy way to generate traffic. How local searches work for you depends on your type of business, the number of directories you use, and the strength of your listing. Contact us to learn more about how local search works in your favor.
We Can Help!
Effect Web Agency partners with businesses to help them achieve the maximum results from their digital marketing efforts. Contact Effect for your free web consultation.