Local septic pumping company, Norway Septic, is the poster child for digital marketing done right. When they came to us in 2018, their company was getting very little online traffic. Despite the fact, they'd been business for many years and had loyal and satisfied customers, they weren't growing at the rate they wanted. Part of the problem was the fact that people couldn't find them online. The owner, Matt Moseng, knew that changes were needed so that he could reach new clients and grow his business.

After consulting with Steve Schmidt, the owner of Effect Web Agency, it was decided that a new website and search engine optimization would produce the best return on investment for Norway Septic.
An Updated Web Design and Built-In SEO
The first step in designing Norway Septic's new website was to create what we refer to as a "gist statement." This is basically a shortened version of the company's UVP Statement and defines what sets their company apart from its competitors. In the case of Norway Septic, the company "cleans" septic tanks rather than just pumping them out. It was very important to the owner that his customers understood the difference and knew that his company was the only one in the area that offered this level of service.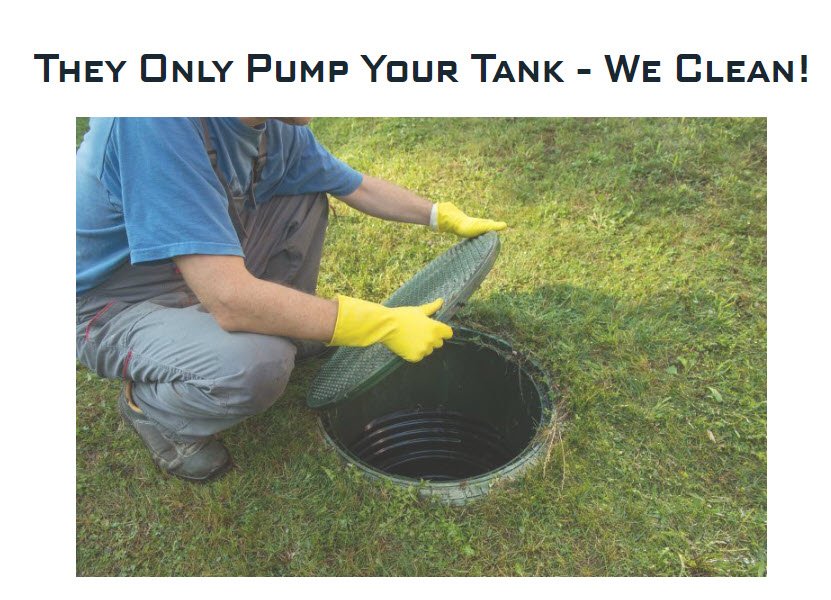 As a result of that meeting, our SEO content writer focused on communicating the difference in the landing page text and researching the appropriate keywords. By finding the right keywords we were able to communicate Matt's distinction to visitors and to the search engines crawling the site.
The website is not large. With only five landing pages, the budget for the new design was affordable and Matt was able to invest additional money in digital marketing after the launch of the site. However, even though the site only required five landing pages, it was built using WordPress, making it easy to expand as needed. In fact, Norway Septic is now in the process of adding new landing pages for septic tank parts that they carry and sell in addition to their services. This expansion will not require an expensive redesign but can actually be done as part of their ongoing SEO services.
Ongoing Local SEO Efforts Multiply Results
The site itself is mobile responsive, fast, and visually pleasing. From the beginning, SEO influenced site architecture and content. Immediately upon launch, our SEO expert began working on Local SEO so that the site would rank in both the Local Pack and organic search results.
Local SEO efforts included monthly blogs rich in keywords, adjustments to landing page text as needed, and technical SEO best practices such as schema markup, and internal linking. The key was making consistent and ongoing adjustments to the site based on research and testing until the site ranked for more keywords than competitor sites.
Norway Septic now ranks for more keywords than all their local competitors.

Local service companies rely heavily on Local Pack rankings for traffic. So, to augment the increased visibility of the website, we also optimized Norway Septic's Google Business listing and other local listings. Our SEO specialist added the appropriate keywords to the company description and made sure that the business was properly categorized in addition to other Google Business best practices. As a result, Norway Septic now holds the #1 spot in the Local Pack for its service area.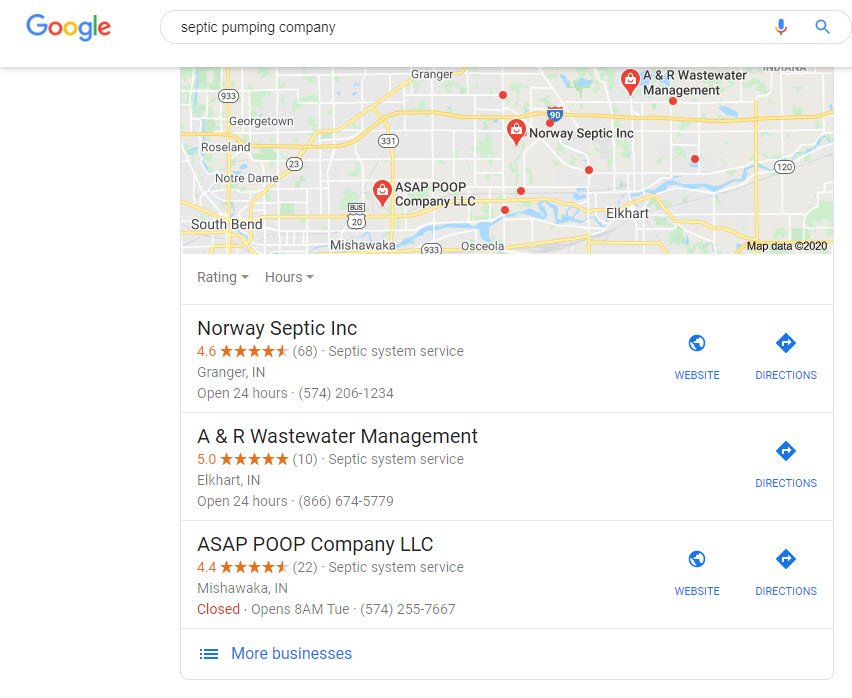 How to Write Engaging Content for a Septic Company
It would probably surprise everyone to know that our content writer considers the Norway Septic blog to be one of our best. That's not because the content is any better than our other customer blogs, it's just that the articles serve such an important purpose. Most people seeking a septic company need answers and they need them fast. Because we write articles that answer common septic questions, Matt has to field fewer calls, saving him time and money. The blog articles serve another purpose as well. By researching topics and writing on those with the most queries, we have been able to secure Norway Septic some prime real estate in the SERP.
Norway Septic now holds thirty-two Featured Snippets that rank nationally and lead back to their blog. It's true that their service area is local, but the national exposure helps their local rankings through soft SEO. The more clicks their site receives, theoretically the higher it will rank locally.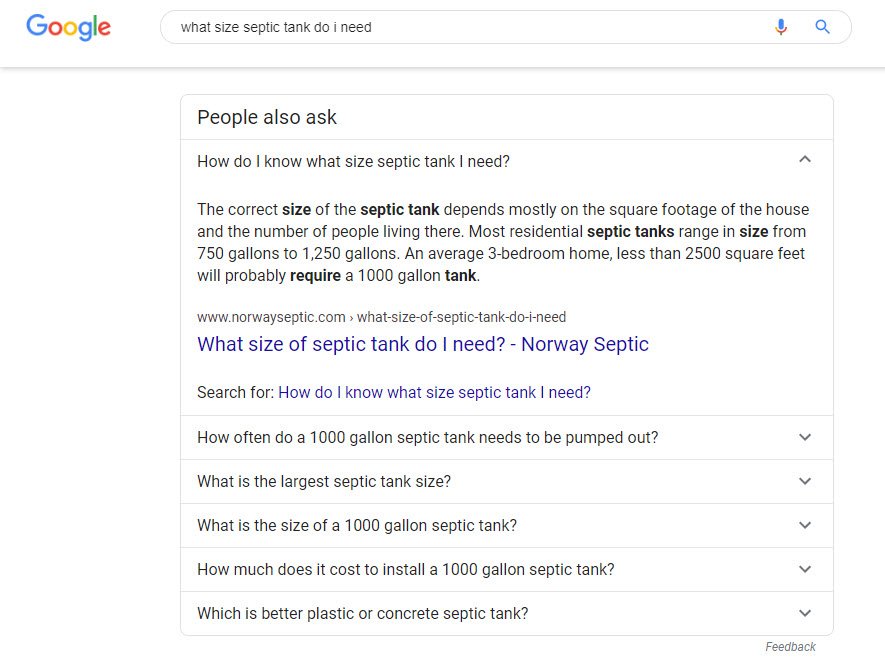 Norway Septic Reaps the Benefits
Not only has Norway Septic gained exposure online, but the growth of their business over the past two years has resulted in additional recognition. In 2019, Norway Septic received the Best of Granger award, recognizing them for superior service. Just recently, Pumper Magazine profiled the company.  You can read the article HERE.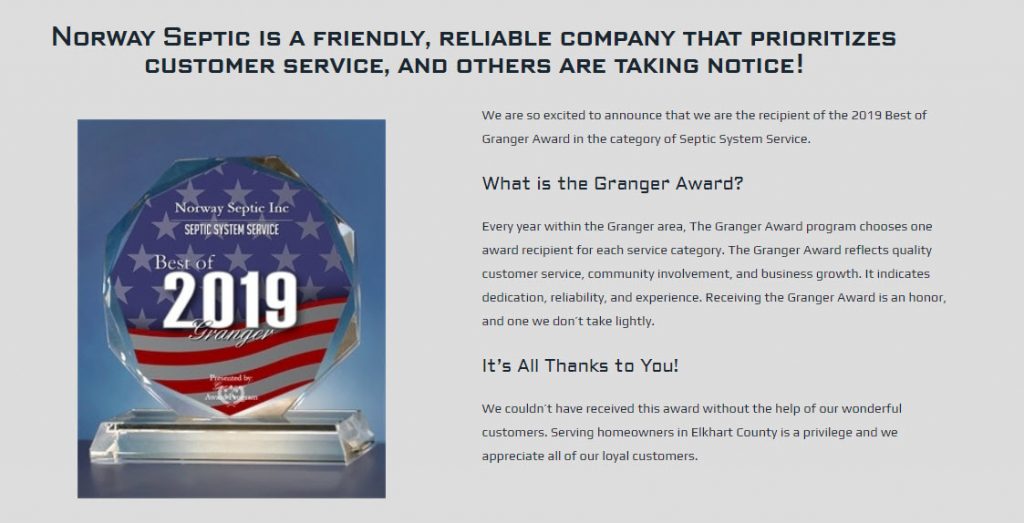 Was the investment in a new website and SEO worth it?
Consider these statistics.
2019 website traffic was up 3141.1% from 2018
Q1 2020 website traffic is up 335.6% over Q4 2019
Google Business calls are up 4.26% this month over last
(Yes! Those decimal points are in the right place.)
We called Norway Septic the "poster child" for digital marketing done right. That's because we were able to collaborate and determine the best tools for their growth, then they made the investment and saw the process through. Even now, with the huge gains in online exposure, Norway Septic continues to invest in its online strategy. We hope to continue our partnership with Matt for the foreseeable future and help him to dominate his local market even further.

Effect is a different type of web agency partnership. You will find the team at Effect Web Agency easy to work with, results-driven, and focused on wielding the right tools to build your business.  Our reviews have made us the highest-rated web design and web marketing company in Northern Indiana or Southern Michigan and one of the few web design companies that offer a full package of services tailored to your needs.  We create online strategies for business growth that align with your goals.