During this section of our SEO Empowerment Series, we will step you through the process of how to choose the right keywords for your business.
Identify a complete list of all the relevant keywords for which people would use to find you on the web.
Target and remove keywords that are not worth your effort.
Know the traffic potential for your keywords.
Once you learn how to choose the right keywords and evaluate them, then you can move forward to the next lesson: Gauge Your Competitors
---
We've designed this training tool to walk you through the actual process of choosing the right keywords. It is designed to teach you as you go.
---
Introduction – Choose the Right Keywords – SEO Empowerment Series
Keyword research sets the direction for the rest of your organic SEO strategy. Determining which specific keyword phrases to target is extremely important to your website's success or failure. During the research process, you will likely learn more about your customers as well. One of the main things to keep in mind when considering which keywords to target is: quality over quantity. It's more important to get the right kind of visitors to your website than to get a high volume of visitors to your website. To accomplish this, we'll guide you through the following steps:
Brainstorm a List of "Seed" Keywords
Expand Your Keyword List with Google's Help
Decide on your Target Keywords
---
Step 1: Brainstorm a List of "Seed" Keywords

30 mins
Before jumping into the process of using tools for keyword research, it's essential that you take a little time to brainstorm and try to determine the "Seed Keywords" that are related to your business and website.
What are "Seed Keywords"?
Seed Keywords are the initial set of keywords that we will submit to Google and ask "Hey Google! Would you tell me all the keywords you see people searching for that are related to these Seed Keywords?". Like seeds, this initial list may grow into a much longer list of keywords during the next step.
How to Choose the Right Keywords for Your Seed Keyword List
You only need 5 to 20 Seed Keywords. To help you make your Seed Keyword List, try asking yourself the following questions and record your answers.
What are the main products/services that your business offers?
How is your business unique?
What do your customers call your products and services?
Which categories do your products and services fall under?
What are the popular brands you carry?
What are your competitors' keywords?
Example Seed Keyword List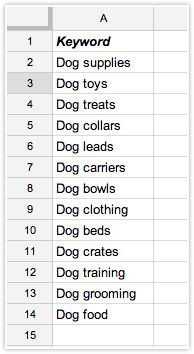 Let's look at an example Seed Keyword List for an imaginary company that sells dog supplies. After some quick brainstorming, we narrowed down our list to 14 seed keywords that we believe people might be searching for on the web.
Once you have 5 to 20 Seed Keywords that cover the products or services you offer and you've answered each of the questions above, then you're good to move on.
---
Step 2: Expand Your Keyword List with Google's Help

30 mins or less
Now we want Google to give us a full list of keywords and phrases that people actually search for – based on your Seed Keywords. The Google Adwords Keyword Planner tool suggests keywords and shows estimated monthly search volume for specific keyword phrases. We'll walk you through the process of using Google's Keyword Planner below so we can expand your keyword list to include every relevant keyword or phrase that gets a measurable amount of traffic. At the end of this step, you'll have a spreadsheet of a comprehensive list of keywords that Google says people actually search.
Sign in and open the Google Keywords Tool
Go to https://adwords.google.com/ko/KeywordPlanner/Home. Signing into Google before you use the Keywords Tool, will allow you to see more specific information. Click the "Sign In" link at the top right corner.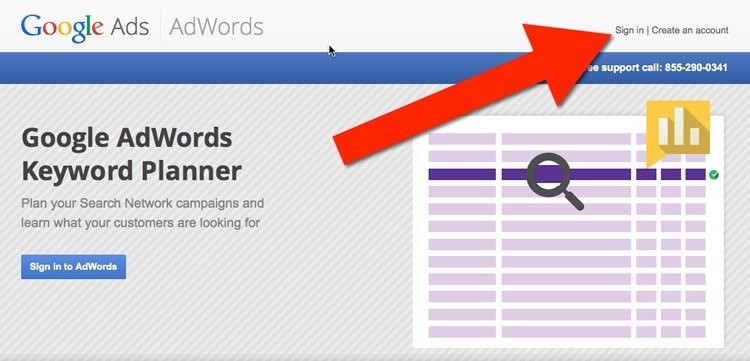 If you don't have a Google account, go to the "Create an Account" page and follow the onscreen instructions. (https://accounts.google.com/SignUp). After you complete signup, go back to the Google Adwords Keyword Planner.
Get traffic estimates for a list of keywords
This video walks you through all of Step 2:
Now that we have our spreadsheet of all the related keywords people actually search for, we can take the next step of boiling it down to the keywords that make sense for your company.
---
Step 3: Prioritize Your Keywords

1 hour
This video walks you through most of Step 3:
Let's get you comfortable with this spreadsheet
The "USA Monthly Searches" column is the most important piece of data for each keyword. It tells you how many searches were done on average each month for a keyword. In the example spreadsheet, it shows that "dog clothing" was searched for 1,900 times on average each month. Also, notice that Google provides the local traffic data for the prior 11-12 months. You'll be able to see if any of the keyword phrases are seasonal searches.
Determining Keyword Phrase Value
How do you know how much a keyword phrase is worth to your website? Would you benefit more from website visitors searching for "dog supplies" or "dog supplies for a poodle"? At this point, we've given our Seed Keyword list to Google and Google spit out a full list with related keywords. We must determine which keywords may be more valuable for you. First, we ask the question: How much traffic could you get? I
How many people search using the keyword or phrase
Your ranking position for that keyword or phrase
How many people actually click on your listing.
Your website's ranking and the click-through rate for your listing in the search results will affect the actual number of visits you receive for each keyword phrase. To get an idea of traffic amounts:
If you're rank is #1 for a keyword, about 30 to 40% of people searching may click to your website.
For those ranking #3, about 9% of people searching may click to your website.
If you're ranking #10, about 2% of people searching may click to your website.
Note: These numbers are based on the research reported at http://www.internetmarketingninjas.com/blog/search-engine-optimization/click-through-rate/.With these numbers, you can estimate how much traffic these keywords may bring.
Does a particular keyword bring people ready to take action?
Let's look at the example of a company that sells dog supplies. Would it be great if their website ranked #1 for "dog collars"? At first glance, a person might think so. After all, the Google Adwords Keyword Planner tool tells us that over 20,000 people search for "dog collars" each month. But maybe it's not that simple. Someone searching for "dog collars" is probably not necessarily ready to buy. They're probably just browsing. However, someone searching for "reflective dog collars" is likely much closer to making a purchase because they are specifically searching for the kind of dog collar they want.
When a person is more descriptive with their keywords, they are closer to being ready to buy. In terms of SEO, getting a website to rank for "reflective dog collars" will require considerably less time and effort than ranking for the more generic phrase "dog collars" and therefore the number of people buying would be higher.
Let's Prioritize our Keywords
Using our spreadsheet, let's rate each keyword. Below is a screenshot of a simple Keyword Value Rating process.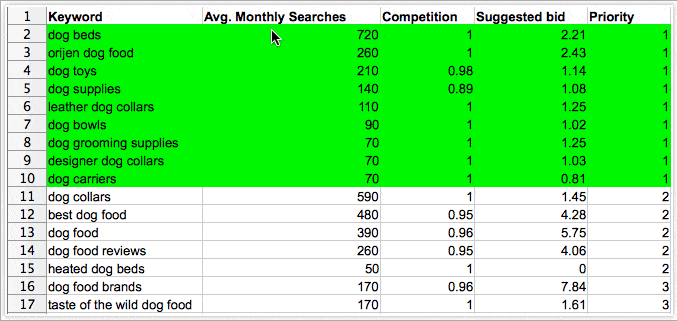 Your Final Keywords List
At this point, having spent some quality time whittling down your list, you should have a good solid list of relevant keywords. Are you happy with your Keyword List? At the very least, you should have some clarity on whether or not putting effort into building your Google ranking is a good investment. Pat yourself on the back or drink a pop. You've accomplished the first step towards improving your Google ranking.
Guess what? There's more potential traffic through "Long Keywords"…
Understanding "Long Keywords"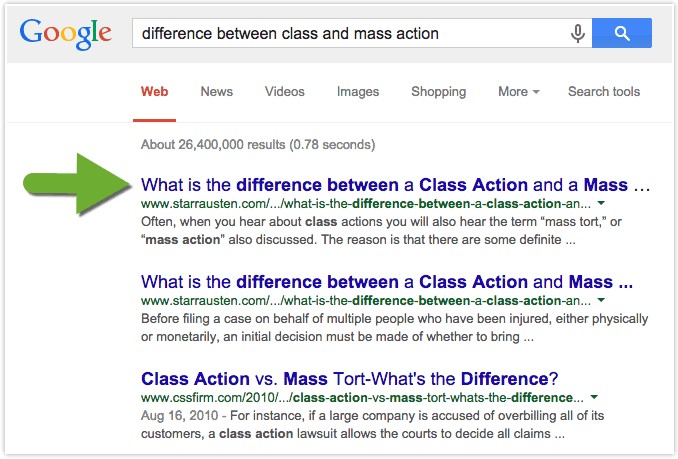 Your Keywords List includes keywords you'll specifically target on your website to improve rank, right? We'll there's another type of keyword that can bring even more traffic. We call them Long Keywords. Long Keywords are 4 to 6-word phrases that further narrow the search.
"possible air conditioner problems"
"difference between class and mass action"
"Amish dining room table and chairs"
Long Keywords normally show a low number of people searching for them. However,  there are so many long keywords being searched that the total traffic from Long Keywords can be big – sometimes 3 to 4 times the traffic of your Target Keywords. Long Keywords are easy to rank for. Write them into your page or blog post. in a few weeks, it's likely you will have people find you through those phrases in your content.
How do you pick Long Keywords? You don't. You just write more content. Writing blog posts that answer questions are a good way to get pages ranked for various Long Keywords. The more content you have, the more traffic from Long Keywords you will get. According to SEOMoz.org (the SEO research authority in the US), 70% of keywords searched for are Long Keywords. Not only is the traffic from Long Keywords substantial, but these keywords almost always have a better conversion rate. This is because people who search for more specific things are often closer to buying (or submitting a lead). We mention Long Keywords to make you aware that there's more traffic out there than just what is in your Keywords List. We'll teach you how to optimize your website's pages and blogs in an upcoming lesson.
---
The Next Lesson
You are ready to move on to the next lesson: Gauge Your Competitors. In this next lesson, you will accomplish:
Knowing how your website's authority compares to your competitors'
Sizing up the scope of work required to beat competitors
Being totally ready for the next step of Making Google Love Your Website.
Thank You
We are more than happy to help you with your keyword strategy. You can call us for all your web design or web marketing needs.