You must remember that every article on your website plays to two audiences. If you favor one over the other, then your efforts aren't going to amount to much, and you might as well not bother. First, you need to write SEO articles for the search engines. If they can't find your content, then you have no audience. Second, you need to write for your clients. If they can't find value in what you offer, then you run the risk of losing them to the competition. Since we've already addressed how to market content to your clients, let's take a close look on how to write SEO articles for the search engines.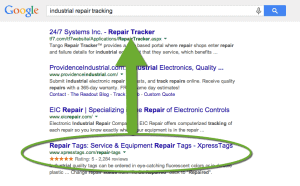 HOW TO WRITE SEO ARTICLES THAT IMPROVE YOUR GOOGLE RANK
Your website needs to be listed on the first two pages of search results for new clients to find you. While several factors come into play when determining rank, keywords factor heavily.
We sometimes treat Google like a person, but in reality, it's just a computer algorithm with limitations. The only way it knows if a site is relevant to a search is by looking for certain keywords and phrases. Furthermore, it looks for those words in specific places. If they aren't there, then you don't have much of a chance in the search results.
HOW TO FIND KEYWORDS
Believe it or not, this part is simple. I realize that there are all sorts of 'experts' out there that want you to think otherwise but all you have to do is answer one simple question
What do you offer? 
Your answer is your keyword.
Take that keyword and start listing out all the different ways you can say it. Take ours for example:
web marketing
digital marketing
web marketing agency
website marketer
And so on
Use Google to help you find them. Type in your keyword and see what auto-populates in the search bar. Go to the bottom of the search page and check out the list of related search terms. For more information on keyword research, we wrote an in-depth article, How to Use Long-Tail Keywords and Niche Marketing to Grow Your Business.
Each of your SEO articles will focus on one particular keyword. Related keywords will naturally appear throughout your writing, cementing the scope of your content. However, you need to concentrate on a single phrase for each article. Don't be afraid to go off on rabbit trails. As long as you can relate it back to that question, 'What do you offer?' then you have a winner.
How to Structure Your SEO Article
When you are writing for Google, presentation matters just as much as the content.
Include your keyword in the first paragraph of text.
Restate it in your last paragraph.
Make your keyword part of your URL and the Title for that landing page.
Incorporate it into the content as many times as possible without sounding forced.
Always include it in at least one subheading.
If possible, put your keyword phrase in a list of bullet points.
Add it to the alt text on your images.
Include it in your meta description.
Include related terms within the body of the text.
If you have a WordPress site, then by all means, download the Yoast plugin. It will tell you EXACTLY how to write an SEO article that has everything needed to rank.
Don't Have the Time or Desire to Write?
A content developer knows these rules, which can and do change. For non-writers, you might find it more profitable to have your SEO articles written by a professional. Some web agencies, like Effect, offer content services as part of their maintenance packages.
Since SEO is so important and websites with lots of relevant content rank better, you will need to have some form of strategy in place. Call us. We can either train your writers on how to write SEO articles for your website or write them for you.