,
As we move forward into 2020, it's the perfect time for our clients to re-evaluate old processes and set goals for the new year.  An integral part of this process is measuring how your site has performed. Are you getting the best return on your investment?
What is Success?
All sites are different because all businesses are different. For instance, a professional services website will have many different goals than a non-profit website. Another thing to consider is that websites are meant to create leads, not necessarily to close the sale.
Let's look at three clients with different goals and different criteria for "success."
Planning for Future Growth
Better Tools had recently re-branded and wanted to present a strong brand identity and have a simple site, that prioritized their visitor's needs and would allow them the ability to add additional lines in the future, without having to undergo another redesign.
To achieve their goals, we knew we needed to create a simple and engaging website that was easy to navigate and visual in nature.  We started by redesigning the company logo to create the brand identity that Better Tools wanted.  In addition to their new logo, we also crafted a gist statement. This statement summed up the company as a whole and promised to resonate with their customers. The final step was to build a website that could be expanded in the future to include any new lines they might add.
"To deliver the most impact, we need to make the page interesting to the visitor and prioritize what they care about the most."Steve Schmidt, Effect Web Agency
Getting More Website Leads
Steve Kasten is a dog trainer in Elkhart, Indiana and a long-time partner with Effect Web Agency.  When he first came to us several years ago, his website was getting traffic but he wasn't seeing the conversions he wanted.
We learned that Steve's primary goal was to get more web leads, and so we assessed his website in that light. We reviewed the critical factors that impact results and we were able to identify a number of adjustments. This included adjustments to his web form, that would ultimately lead to increased numbers of web form submissions on his site.
How to Measure the Success of an E-Commerce Website
When it comes to e-commerce, you must understand that selling goods is just one of many goals. What stakeholders really want is to have the user buy again and again. User retention makes real growth possible and positive user experience is a key to retention.
UX Design for E-Commerce first focuses on helping the user find the products or services they need. The second most important thing is the usability of the website. Is the customer journey clear and easy? Accessibility is also important, as is desirability. Does the site look good and provide an enjoyable experience?
In 2018, Stone Horses underwent an extensive website revision. This revision focused on allowing a better display of the Stone Horses products and an intuitive user experience. They followed this with the launch of a new app whose primary goal was supporting customer interest in the brand. his goal of customer engagement has resulted in an increase in monthly website traffic of 44% since the time of the launch
What are Stretch Goals?
A stretch goal lives up to its name. It stretches you. For instance, think about where you would LIKE TO BE next year rather than where you think you WILL BE.
Do you want to increase your gross sales by 100%?
Would you like to triple the number of leads you receive through your website?
How would like to improve your ROI by 200%?
You can have more than one stretch goal as long as they are achievable with extra effort.
Knowing what you hope to achieve makes you more efficient and helps you focus your efforts and resources. However, a stretch goal is too big and hard to achieve unless you break it down into manageable, small goals. That is where SMART goals come into play.
How to Define SMART Goals
Effective goals need to be SMART Goals – Specific, Measurable, Attainable, Realistic, and Time-Bound. Solid examples of SMART web goals include: "Increase traffic by 60% in six months" or "Add 1500 new subscribers to the newsletter over the next year" or "Connect with 10 people per week on Facebook."
If you are redesigning your website or launching a new one, then you should define your web goals prior to starting the project. Setting goals as an afterthought can lead to extended development time, additional incurred cost, and poor performance. Also by proactively establishing goals, web designers can tailor the site structure in a way that will best help achieve the goals set forth.
Planning how to reach these goals is surprisingly simple by breaking down the goal into more easy-to-understand steps.
Steps for Establishing SMART Goals

Establish a SMART goal
– Increase web-based revenue by 20% ($2 million) in 12 months
Knowing the average annual customer purchase amount, determine how many customers are needed to make up the increase in revenue.
-$50,000 average annual purchase x Y customers = $2 million
-40 customers are needed
Using historical business data, the average rate of converting a perspective into a client can be determined. Let's say the conversation rate is 10%.
-10% conversion rate x Y number of perspective customers = 40 customers
-400 perspective customers are needed
Knowing on average that 2% of website visitors will convert into perspective customers, determine the number of web visitors needed.
-2% x Y number of web visitors = 400 perspective customers (annually)
-20,000 additional web visitors needed annually or 1,667 web visitors per month
You can also use our online goal calculator to figure out how many visitors and leads you must get to achieve your web goals.
If you would like our help setting website goals for 2020 and more information on the tools available for increasing website traffic and conversions, contact Effect Web Agency. We can assess your site and pinpoint areas of opportunity that can help you grow in the coming year.
Effect Web Agency partners with businesses to help them achieve the maximum results from their digital marketing efforts. Contact Effect for your free web consultation.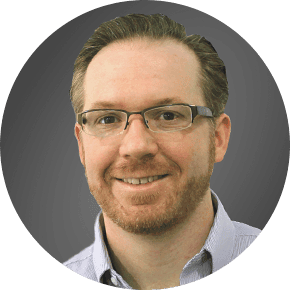 A comprehensive web strategy plays an essential role in the overall marketing plan. Not only does Effect create the online experience, we empower companies with tools to track results and measure ROI across all of their media mix.

Steve Schmidt, CEO

steve@effectwebagency.com