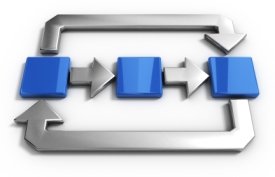 I am currently reading the 4 Hour Work Week by Timothy Ferriss. Amongst the dozens of inspiring business techniques Ferriss enlightens readers with, the idea of automating aspects of your business is particularily interesting to me.
One of the most common tools used to automate business is an effective website. Your website has the potential to become a fine-tuned, lead generating machine, that will not only help you grow your business, but also save you time and money.

Here are some examples of ways you can use your website to automate certain aspects of your business:
Collect contact information and permissions: Offer an incentive such as a complimentary white paper or a discount to entice users to opt-in for future communications from you. The contact information can then be plugged into a CRM system to manage and plan out next steps to move these potential customers through the sales funnel.
Build a resource area: You can use your website to provide instant, helpful information to your target audience. Addressing frequently asked questions will reduce unecessary confusion and time spent on the phone. You can also eliminate printing and mailing expenses by having marketing collateral (such as catalogs, brochures, etc) posted on your website.
Lead generation: By utilizing search engine optimization (SEO), paid advertising (PPC), and social media you can increased the number of qualified visitors that visit your site. Use online marketing tools (white papers, catalogs, social areas) on your website to further qualify leads and convert them into customers.
Testing and research: You can test advertising messages that can be used across your integrated marketing campaigns by creating unique landing pages and tracking traffic and click-thru rates. Pricing strategies can also be testing using this same methodology. By conducting A/B split testing of various website elements you can increase website conversion rates.
How have you used your website to automate your business? Let us know in your comments section below.
Want to be notified when there are new posts on the Marketing Annex Blog? Subscribe via our RSS feed and you will be automatically be updated with our latests posts.
PS: If you aren't familiar with RSS and would like to learn what it is, click here.