WordPress 5.2 was officially released on May 7, 2019. This newest update has features, such as site health and PHP error protection that will help site owners keep their websites running even more smoothly.
Here is a brief overview of the changes you can expect with WordPress 5.2.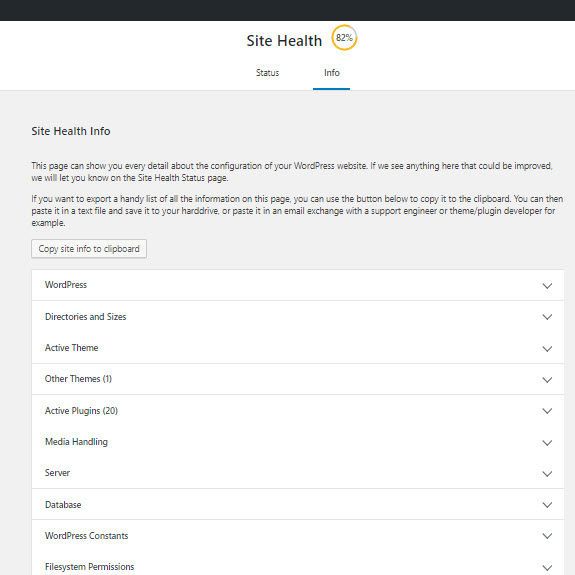 Site Health Check
The first time we saw the release of the Site Health Check was with WP 5.1. This newest version has two full pages of bug-checking features (located under tools in the left toolbar). It can help debug server and software configurations along with PHP errors.
The tests in the new Site Health tool includes checks for the following items:
Performance Checks
Updated WordPress Version
Most Current PHP
Updated SQL Server
Required PHP Modules
Support for UTF8MB4
Scheduled Events
Working HTTPS Requests
Available REST API
Loopback Request Functionality
Security Checks
Themes
Updated Plugins
HTTPS Connection
Secure Communication
Debug Mode Off
WordPress.org Available
Background Updates Working
Data Points/Information
WordPress version
Site Language
Permalink Structure
Number of Users.
Directories and Sizes
Theme Information
Most-Used and Active Plugins
PHP Fatal Error Check
The PHP Error Check was originally scheduled for release in WordPress 5.1, however, due to bugs, it was delayed until WP 5.2.
With this protection, WordPress will recognize when a fatal error occurs and pause your programs until you can fix the issue rather than cause your site to crash and burn. You do need to be aware that your plugins and themes may not work or update until you update the PHP. Also, the site may not display correctly or show an error message.
We always recommend that you use a staging environment for PHP updates.
WordPress 5.2 Offers Better Website Accessibility
WordPress 5.2 comes a number of changes designed to improve contextual awareness and keyboard navigation flow for those using screen readers and other assistive technologies.
Post formats are now presented in list tables.
New link markup on the admin bar submenu.
A new media view was added.
Headings were added to the data tables.
Other Updates
Privacy Updates – Customizations to Privacy Pages is now easier.
Gutenberg Improvements – Including enhanced media and text blocks.
Developer Tools – Body Tag Hook and Javascript tools
New Emojis and Dashicons
Security
We saved this section for last because website security is of major importance. There was a vulnerability in previous WordPress versions that would allow someone to take control of a website through api.wordpress.org. WordPress 5.2 has addressed the issue and put additional verifications in place to prevent the breach.
How to Update to WordPress 5.2
We recommend that all websites use a staging environment for updating to WP 5.2. If fatal issues are triggered, you won't have to worry about site downtime. Effect Web Agency has developers that can quickly update the site, check it for issues, and fix one if it occurs.
Contact us at (574) 533-3800 to schedule your update.