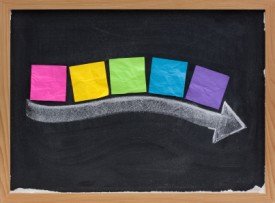 In my previous post about social media ROI, I talked about establishing a baseline as one of the first steps. Remember, after you establish your baseline it's important to track those metrics on a monthly basis. The next step in calculating social media ROI is to create and maintain a time line of all of your marketing activities.

By creating a time line you can overlay your sales data and start to determine trends that will help you connect your investment to its impact on the bottom line (connect the "R" in ROI to the "I").
Start today and from this point forward record all marketing activities that will be viewed by the public on your time line. Record things like:
Blog posts
Webinars
White papers
Speaking events
Press releases
New product launches
Advertising
Tweets (group tweets per day, and record how many there were in a given day)
Video posts
Start of social media activity (i.e. begin Tweeting, answering questions on LinkedIn, etc)
Media mentions
Social mentions
and more
I recommend using Excel or OpenOffice Calc to record the activities and additional data for your time line. In addition to the date and marketing activity you should also include a cost for each activity to make calculating the cost of your investment easier.
Here are some suggested column headings for your spreadsheet:
Date (month, day, year)
Activity
Category (to help segregating data easier. ex: Twitter, Blog, PR)
Team Member
Cost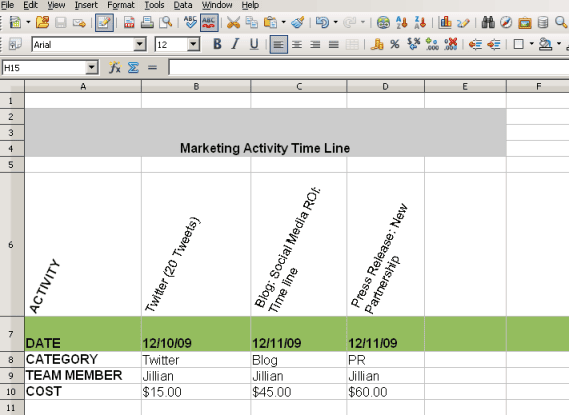 You can download a sample spreadsheet that you can modify and use in your own business here.
It's worth noting that depending on what version of Excel or OpenOffice you are using, there will be limits to the number of columns you can have in a given spreadsheet. I usually break my time line up by quarter and have a separate sheet or tab for each quarter to eliminate the worry of running out of columns.
Outside of Excel or OpenOffice there is another great tool for creating time lines call Dipity.This tool can pull in Twitter, RSS feeds, and other social updates automatically which can be a huge time-saver. The downsides are that you cannot currently print or export your time line (although the developers say there are plans for these features in the future). Also if you choose to use this tool you will have to keep track of the cost of each marketing activity in another format.
Between updating the metrics we talked about in the previous post and recording your activities in a time line it may sound tedious and time consuming. However it is the one of the best ways you can begin to make connections between your marketing activities and the impact on the bottom line $$$.
If you have interns you can consider having them update the time lines and metrics spreadsheet as a great way to engage them in the practice of measuring ROI.
I am curious to know what other uses you have found for time lines in your business. Let me know in the comments section below.