If your company uses webpages, blog articles, press releases, or other forms of online communication, chances are you would like to increase your traffic from Google. This article will walk you through the Search Engine Optimization dos and don'ts of each online marketing communication channel, offering simple tweaks toward optimal content to maximize your Google ranking. Revisit these guidelines on a regular basis to improve your Google ranking by weaving these simple techniques into your daily work.
Assuming you have already selected keywords you would like to use to draw visitors, let's begin.

Pages and Posts
In order to attract Google's attention and receive more visitors, your webpages must be "optimized" for the keywords you want to attract people for. This helps Google decide what page to rank at the top. It is somewhat easier now to optimize a webpage or blog post, as Google appreciates straight-forward optimization techniques when determining rankings.
Page Title
The title of your page or post is most crucial for optimization. It will appear front-and-center, both at the top of your web browser and in the heading of your Google listing.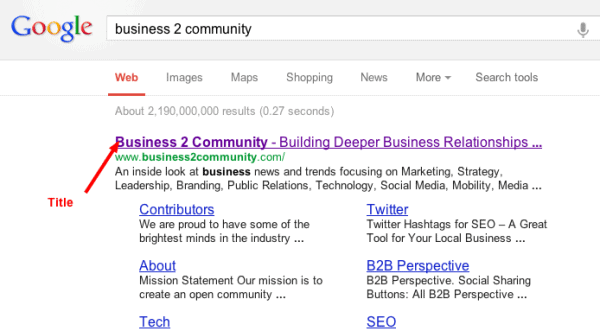 Optimizing a title is fairly simple:
Include up to three keywords
Use a dash – followed by the name of your company
Limit title length to 55 characters or less, as most search engines only show that amount
Make sure it is easily readable for humans. If your title feels confusing to read, remove a keyword. People should be able to read your title and quickly understand the topic of your page.
Good title example:
"Website Planning, Web Marketing Strategy – Effect Web Agency"
Bad title examples:
"Welcome to [Company Name]"
"[Company Name]" (only uses name of company)
"Services" (not descriptive, therefore is not clear to Google how to rank it)
Page Headings

Your page headings are the lines of text that are enlarged, summarizing the content that follows. Google analyzes headings to determine what a page is about.
Keep your headings readable. If a heading can have a keyword put into it and still sound natural, do it. It is important, though, for these sections to be friendly to human eyes.
Good heading example:
"Dog Training with Lasting Results – Puppy Preschool"
It includes the keyword, makes it clear that the page is about and communicates the unique selling proposition of "lasting results".
Bad Heading Example:
"Dog Training, Dog Obedience, Dog Fences, Puppy Preschool"
It is obvious that this heading was written with Google's robots in mind, rather than humans. It reads more like a list of categories than a title of a page. There's no unique selling proposition.
Page Text
For optimal page search engine optimization: Use your keyword(s) again in the body of your text. See how I just put in my keyword "search engine optimization"? Remember that once or twice is enough. While companies used to cram webpages with keywords to grab the attention of search engines, too many instances of the same keywords can now actually harm your rank status. Google now knows that more keywords do not always make a site more relevant, and you may be penalized in the rankings if Google believes you are "keyword cramming."
Focus on writing clearly for your human audience, inserting keywords as they make sense. With a focused topic and some well-placed keywords, Google will take note.
Links
Including links to other webpages within your page content works as a recommendation, benefitting the pages you link to. Tell Google what these target pages are about by including keywords within your links.
Good Link example:
It is important to note that you should only use links containing keywords if the page or post you are working on will be published in only one internet location. It's never a good idea to make links with keywords if your content will be published in multiple places online – for instance, a press release. Let's look at why…
Press Releases
While most of the same tips and strategies for posts and webpages are relevant for press releases as well, one major difference is that you should never use links with specific keywords if your release is being distributed to multiple sites. Google will notice a sudden surge in links with the same keywords leading to your site, and will suspect sneaky SEO (search engine optimization) tactics. To avoid damage to your Google ranking, direct your link to your homepage using your company name. Google will not find this suspicious, as linking with company names is common and finding many such links is expected. Company names are not considered competitive keywords.
You may want to use a service such as PRWeb to distribute your press release if it truly contains news rather than simply a sales pitch. These services will publish your press release to hundreds of sites, and – if it is actually newsworthy – it may be picked up by other reputable sites who will link back to you. (A non-newsworthy press release may only gain links from low-reputation sites, which will not bring you any benefit.)
Profiles

Many sites, such as LinkedIn, Facebook, Digg, Manta.com, or forums offer profile sections/pages where you can share information about you or your company with other visitors. Taking the time to optimize your profile on these pages is an easy way to draw respected links to your website. Remember that Google will see these links as recommendations, so be sure to follow these steps:
Use detail when completing each profile field
Insert your main keywords into fields where it makes sense to
Provide a link to your homepage
Guest Posting
Articles you write for other websites are also chances to link back to your site and improve your Google ranking. Simply link from the guest post back to your site, ideally using your main keyword.
Good link examples:
Publishing websites may not always want to give you specific links. In that case, try to at least get a link with your company name leading to your homepage. In Google's eyes this is a recommendation, and you will receive benefit in your Google ranking based upon the reputation level of the publishing website.
Takeaways
These easy habits can eventually translate to major benefits in your Google ranking. Most companies, however, do not appear to use these strategies yet. Consider sharing this post with your team, as a way to stay ahead of the competition by taking simple, daily steps to improve your Google ranking.