In addition to filling out your profile completely and keeping it up to date, there are several less commonly known things you can do to optimize your LinkedIn profile to further establish your credibility and get attention from the search engines.
1. Customize your links
Instead of choosing the default option of "My Website" or "My Blog", choose "Other" and type a short description (30 characters or less) and then provide the URL to your website or blog. This small change has big SEO benefits. The majority of links found on LinkedIn are "no follow" meaning they don't carry any weight with search engines. However, these modified descriptions are considered "do follow" only if you customize them as opposed to leaving the default descriptions. "Do follow" links tell search engines to follow and index those links. For example in my LinkedIn profile the custom description for this blog is "web marketing blog".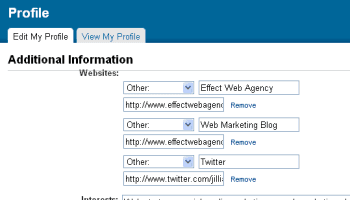 2. Add video and presentations
Through LinkedIn's applications, similar to Facebook apps, you can upload videos, slideshow presentations, and PDF's. This is a great way to give the content you already have a longer shelf-life and more exposure.
When editing your profile go to "Applications" in the left toolbar and then add either "Slideshare" (for video and presentations) or "Box.net Files" for PDF's such as white papers. You then simply register for an account if you don't already have one and upload your files. The videos, presentations, and PDF's then appear on your profile.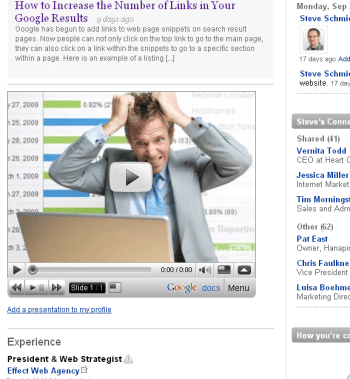 3. Import your blog
You can import your blog feed into LinkedIn through the WordPress application. Your profile will display summaries of your three most recent blog posts and a link to the full post.
Go to "Applications" in the left toolbar and select "WordPress". Enter your blog URL and save. The app also give you the option to either pull in all blog posted or only those you tag "linkedin".