Google implemented a lot of changes, during 2016, to their search engine result page (SERP) and almost all of them related directly to mobile users. Despite the half dozen major updates that went into effect, Google announced last month that they intend to make their biggest change in 2017. The company plans to create a separate mobile search index in addition to the one they currently use, and the mobile index will eventually become their primary index.
Regarding the Mobile Index:

The index will be effective "within months,"

Gary Illyes, Google, Dec 2016
Why is Google focusing on Mobile Searches?
Over the past few years, mobile use has grown until it now outranks desktops. Studies show that, even back in 2015, 56% of web searches were conducted from a mobile device. The problem for users is that mobile devices don't have the same screen space or bandwidth as a desktop. To compensate, Google decided to make adjustments to their SERPs for the mobile user. After all, if most of their traffic is coming from mobile, then it makes sense to give priority to those types of devices.
What The Mobile Index Means for Business Owners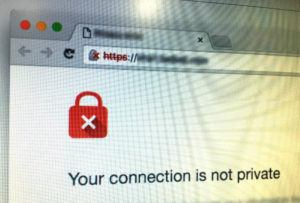 Needless to say, Google's shift from desktop to mobile presents a challenge for established websites.
Even though most of the changes affect mobile sites, there are some updates that apply to both mobile and desktop.  For instance, Google made a move to penalize websites without encryption. Businesses will be forced to revamp their sites, just to maintain their current standing in the search engine. Those that don't make updates could see a quick and significant fall in rank.
3 Ways to Improve Your Rank in the Mobile Index
To avoid penalization and even better, take advantage of Google's preference for mobile, you should work through this checklist.
#1 – Make Sure Your Website Design is Mobile-Friendly
Most top-ranking websites are mobile-friendly. In fact, Google quit using its mobile label some time ago. With the new index, you can assume that the top results on the SERP have been optimized for mobile devices. So, if your site is not ranking, you need to check if it's optimized for mobile devices.  An easy way to determine whether or not you are mobile-friendly is to use Google's mobile-friendly tool.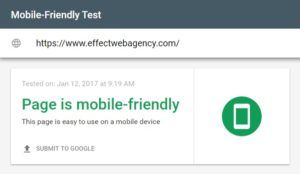 If the results come back showing that your website is not mobile-friendly, then you should read this article on Creating Mobile-Friendly Websites by Google.
It's possible that your website could be mobile-friendly, but not load quickly.  In September 2016, Google said it would begin labeling mobile sites with an AMP symbol if they could meet certain load times. Like the old "mobile-friendly" label, the AMP symbol could impact click-through rate (CTR) and search engine optimization (SEO).
To see how quickly your website loads both on mobile and desktop, use the Google Website Speed Test.
#2 – Change Your Titles and Meta Descriptions
During the Spring of 2016, users started noticing changes on the SERP. Google removed the ads in the right column and increased the title character limit. What was surprising at the time was that they allowed a full 78 characters for mobile searches. That was at least ten more characters than what was being allowed for desktop searches. This discrepancy apparently foreshadowed future changes with the index.
But, it didn't stop with just the titles. The meta descriptions also increased in character length. They went from two lines to three lines of displayed text.
What does all this mean? With longer titles and descriptions, users have more information with which to base their selections. If your description doesn't fully summarize your content and include a call-to-action (CTA), your CTR could suffer. Websites with a greater CTR move up in rank, so it's all interrelated.
Knowing this, you should probably tweak your existing titles and descriptions, or find a content specialist to rework them for you. Pay particular attention to long tail keywords. Those are the three or four-word search strings that are specific to what you sell or offer. Using specific phrases instead of general keywords improves your chances of finding your ideal customer and improving your CTR.
#3 – Get Rid of Pop-Ups
At the same time that Google announced the new mobile index, they also spoke out against full page pop-ups (interstitials) or pop-ups that cover a good portion of the page's text. Websites that use these popular lead generators are now penalized using the mobile index. Since that particular index is set to become the primary index driving search engine results, those sites can expect to lose rank.
A clever way around the issue is to use "faux boxes." A web designer can create a box that sits between two sections of a web page. The effect relies on a bit of optical illusion, but the result is such, that the eye perceives it as a pop-up. A CTA can then be placed inside that box.
Such sites would not be penalized. First, there is no interstitial coded into the site. Second, none of the text is covered.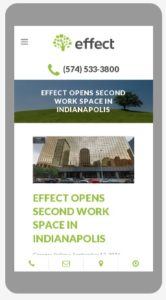 Now is the Time to Optimize Your Website for Mobile
Even though the new mobile-only index won't be active for a few months, the time to make changes is now. If you are tech-savvy, you can make the changes yourself. If not, do as Google suggested in their article Creating Mobile-Friendly Websites and hire a web developer to make the changes for you.  
Sources:
https://webmasters.googleblog.com/2016/11/mobile-first-indexing.html
https://developers.google.com/webmasters/mobile-sites/mobile-seo/