As you evaluate your marketing plan for 2017, you need to consider the 2.32 billion smartphone users who shop the web every day. Google has already announced plans to rank sites based on whether or not they are mobile friendly. Consequently, mobile marketing trends could change drastically in 2017.  Currently, 50% of all digital advertising dollars are spent on mobile ad campaigns, and it's estimated that over $150 billion will be spent on mobile marketing by 2018. (1)
So, what should you do to adapt to the mobile marketing trends expected in 2017?
Target your mobile ad campaign, so it reaches the right audience with the right message.
Stay on top of the newest and most popular apps, particularly those used by your customers.
Redesign your mobile ads to include video and other animations.
Location Data Narrows Down Targets for Mobile Ads
For local businesses, mobile ad targeting gets the right message to the right audience. For instance, if your company installs flooring the Kansas City Metro area, there is no need to advertise in New York. Mobile marketing trends in 2017 will include a greater focus on geolocation. Mobile devices target a person's location using their GPS. How many times have you sat at a restaurant and up pops a message on social media. "I see you are at "this restaurant," would you like to leave a rating?" A little disconcerting sometimes for the consumer, but for businesses trying to reach local clients, this data is invaluable.
Studies find that people feel more comfortable offering personal data in exchange for a tailored experience. According to Accenture Interactive, as much as a third of all users say they would gladly give up information for more personal offers and advertising. (2)
Know Which Apps Your Customers Use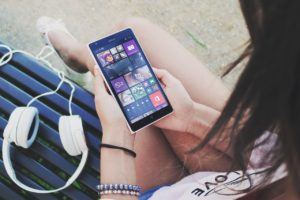 According to Statista, the average smartphone user has 27 apps on their phone. This statistic has held steady since 2013. What has changed is the number of hours they spend on those apps. That number increases for each year recorded. Consequently, you need to know which apps your clients use.
Many app developers allow native ads which could soon become the backbone for mobile marketing campaigns. The beauty of native ads is that they appear to be part of the app itself. Snapchat's sponsored ads are expected to generate as much as 100 million dollars in revenue for the company in 2017.
Snapchat is mostly used by a young demographic and probably wouldn't reach older audiences. Therefore, it is extremely important that businesses define their customer. Then, they need to target the apps that buyer uses before launching a mobile marketing plan.
Mobile Marketing Trends Favor Video Ads
As Google pushes for a less intrusive mobile experience by banning popups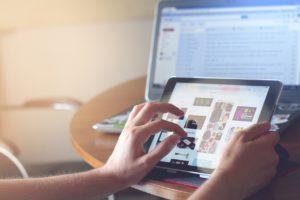 , advertising needs to adapt. Consumer behavior, along with technology, demands that mobile advertising is presented in a more tactical way.
2017 should see an increase in animated banners, video presentations, and native advertising. Adweek suggests that consumers have become blind to traditional advertising and if it gets through the ad blockers, it's often ignored. (3) However, they also suggest that dynamic creative optimization catches the eyes of those same consumers. With targeted mobile marketing, and a compelling call-to-action, these types of ads reach their intended audience. The key to animated banners and videos is in the targeting.
According to Consumer Labs, 20% of young adults spend at least three hours watching YouTube per day. (4) Advertisers gather millions of views in pre-video advertising and often sponsor whole videos. With the increase in mobile use, more and more people are streaming video on their mobile devices. Mobile marketing campaigns in 2017 will see benefit from video ads as opposed to traditional advertisements.
The bottom line is that to find new clients; you need to go where they are and speak to them in their language. Mobile use is up, and savvy marketers should adjust their mobile marketing accordingly. Mobile marketing trends suggest that geo-targeting has become a major component in mobile advertising. Coupled with new types of ad delivery such as native ads and video, mobile ads look nothing like traditional advertising.  Businesses need to incorporate these trends into their 2017 mobile ad campaign in order to stay competitive.
Sources:
http://www.mediapost.com/publications/article/290340/a-third-of-consumers-say-they-would-exchange-perso.html

https://www.ericsson.com/res/docs/2015/consumerlab/ericsson-consumerlab-tv-media-2015-presentation.pdf