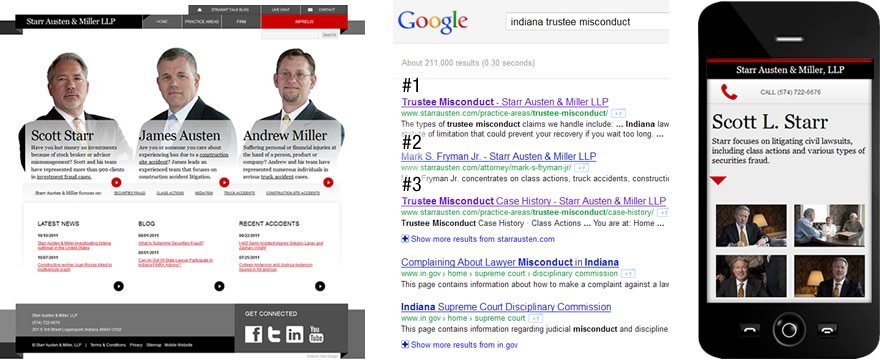 The reason we chose Effect, over a dozen other designers, was because they did so much more than just web design. Through the Insight lab, we were able to create a comprehensive plan for the firm that fit our ideals and objectives. – Scott Starr, Attorney, Starr Austen & Miller, LLP
Challenge
The partners at Starr Austen & Miller are highly respected trial lawyers. In their own words: "Being great lawyers is not enough anymore in order to grow your firm. You need to be great marketers too."
Strategy Mix
Website planning
Search Engine Optimization research & strategy planning
Identify Social Media opportunities and phase one planning
Design the look of the new presentation
Construction

Full web-publishing website
Mobile site
Photography
Copy writing
Kicked-off search engine optimization campaign execution
Continual site updates

Radar

Web Results Dashboard
Class Action Idea Alerting tool
Regular reporting/consulting meetings
Web analytics
Solution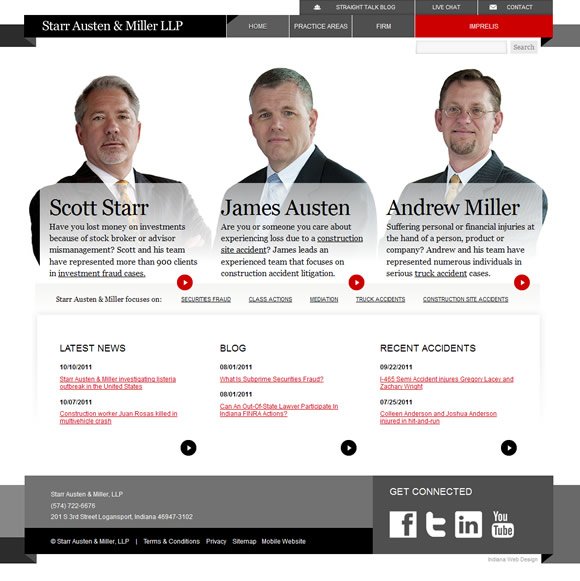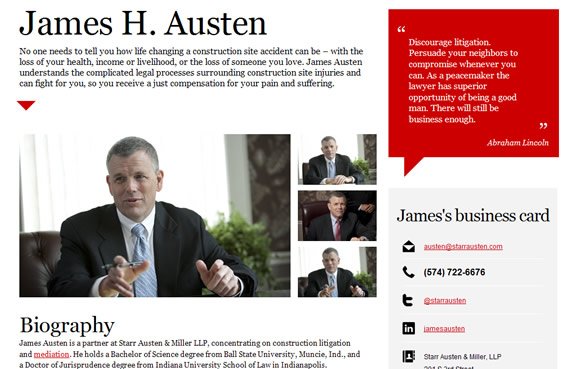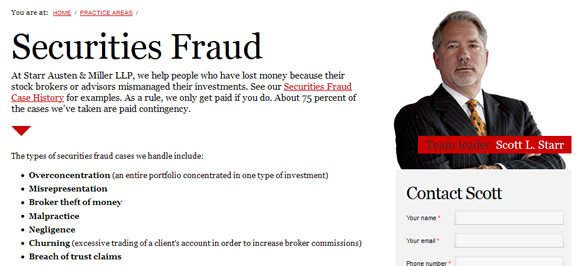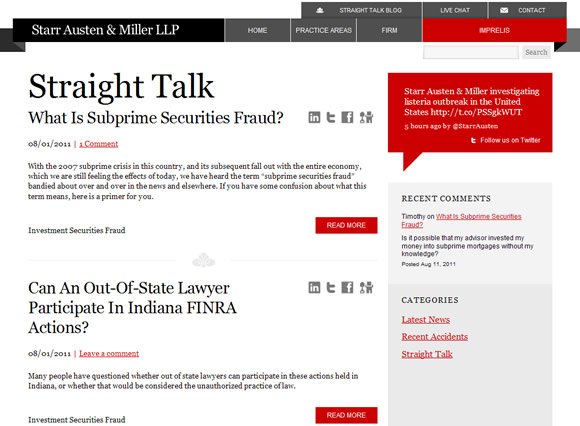 The Right Look
Effect's new website for Starr Austen & Miller has drastically improved our overall messaging, image, and vision. – Scott Starr, Attorney, Starr Austen & Miller, LLP
There are basically two types of "competing" law firm websites out there: A) Lofty, no-personality firms and B) Ambulance-chasers. Starr Austen & Miller, LLP is neither. The Starr Austen & Miller law firm are well-respected trial lawyers that "give it to you straight." The contemporary black and white design with professional photography, the right wording and the "Straight-Talk" blog communicate competence, commitment to clients and no-nonsense.
Getting the Right Traffic
First, we sized-up the opportunities in attracting potential clients from Google for specific goals. Then, seeing that the opportunity made sense to invest into, we laid out the specific strategy to get to the top based upon the right keywords, pace of competitors and the current status of StarrAusten.com. We began executing our SEO campaign in October 2011. Stay tuned for results.
For another audience type, it's more advantageous to implement quickly-activated and short-lived Pay-Per-Click campaigns. We developed the template for the landing pages, ads and the process for activating a fully-functional Pay-Per-Click campaign within 24 hours of being notified.
Converting Traffic
Appropriate pages guide the visitor to contact the practice area Team Leader through a very simple contact form. Those that want more information before contacting are directed to the Q&A section. Others are invited to participate in the "Understand your rights" Live Chat every Wednesday afternoon to chat directly with one of the attorneys.
We have tailored landing pages to convert the traffic from very specific Pay-Per-Click ads.
Monitoring the Relevant Web
Effect understands that the future is now and the present is ever-changing. With that understanding, Effect has helped Starr Austen & Miller LLP, a 36-year-old law firm, stay competitive in the legal marketplace as technology continues to evolve. – Scott Starr, Attorney, Starr Austen & Miller, LLP
Starr Austen & Miller now reviews filtered intelligence on competition gathered by Effect. For instance, we know competitors' pace of search engine marketing so we can compete with confidence.
Class Action Litigation starts very quickly. Once an opportunity arises, there's a race among law firms to get first dibs of the case. Initially, we discussed a plan to push class action ideas to Starr Austen & Miller. This would have been very costly and taken many man hours and a couple years to gauge effectiveness. We instead suggested a plan to pull class action ideas to us that is very inexpensive, automated and we'd be able to judge the effectiveness within a few months.
Before Starr Austen & Miller engages in meaningful social media interactions, they must listen to relevant online conversations. We've implemented an initial, simple strategy to start. The findings of this listening period will determine if and how we proceed further in the Social Media realm.
Effect Web Agency reviews and meets with Starr Austen & Miller every month. We're like their own internal web team of experts keeping them on the right track to reach specific, attainable goals.