Understand how search engines rank websites and you can influence your Google ranking.
In this lesson, you will:
Understand clearly how Google decides to rank websites
Know what is necessary to do search engine optimization yourself
Be totally ready for the next lesson: Know the Right Keywords
---
Sizing Up this Lesson
To accomplish the goals of this lesson, we'll help you answer the following questions:
What is SEO?
What do you expect from good rankings?
What do search engines do?
What must Google do to remain popular?
How does Google decide where to rank you?
Why does my site need SEO?
What goes into making SEO work?
What is Off-Site Optimization?
What do I need to know about SEO in order to win?
Can I do SEO on my own? Spoiler: Yes!
---
What is SEO?
In short: Getting your website to rank high enough for people to find it.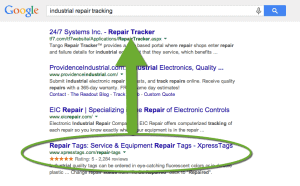 SEO (search engine optimization) is the process of influencing Google (and other search engines) to rank you higher in their organic (non-paid) search results to increase the number of visitors.
There are many factors to a successful strategy, ranging from the specific phrases you decide to target on your website – to the way your website is structured – to the way other websites link to your site.
---
What do you expect from good rankings?
These questions will help you better understand what is important to you and how Google ranking will help you meet your goals. If you get more people to your website, what do you want them to do?
If the answer is 'contact me' – How many contacts do you want a month?
If the answer is 'buy something' – How many sales do you want to make from SEO each month?
If another goal, the same question applies: How many ______ would be good?
In service to these goals you must ask: Are enough people are actually searching for your services or products? (We'll help you answer that question in the next walkthrough "Know the Right Keywords".)
Secondly, you must determine whether achieving these goals will make all the work to influence your rankings worthwhile, even if it takes a years to get there.
Improving your Google ranking is a long-term effort, not a short-term set of tricks. 
---
What do search engines do?
Why do you use any particular search engine? You believe that you will find what you want.
A search engine – let's just say "Google" from now on – has to know about all of the stuff out there in order to recommend sites to you when you search.
There are about 700 Million websites out there. So there is no way that Google can go out and find stuff on the fly for you. It must read all the websites beforehand and sort them out so at a moment's notice – it can pull up the best suggestions.
In order to index each of the billions of individual web pages (or PDF, JPG, or other file), the search engines need a way to find and read them all. The most efficient way to do this is via links. Through links, the engines' automated robots, called "spiders", can eventually reach most of these documents – assuming the owners of the documents allow it.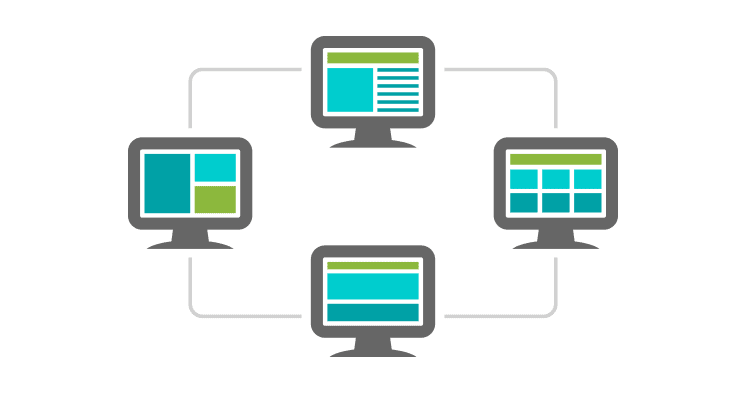 Once the engines find these documents (pages), they interpret the code of the page and store this information in massive hard drives. When someone performs a search, the engines are able to recall this data very quickly. However, when someone performs a search query, the search engines must do 2 things:
Attempt to return those results that are relevant to what the person searched for
Rank those results in order of how useful they are perceived to be
---
What must Google do to remain popular?
Well, would you use Google if the suggestions it gave were not helpful? No, of course not.
Google must find a way to separate the wheat from the chaff and make good suggestions to you – the user.
Good suggestions are relevant and considered to be the best information on the subject.
The job of Search Engine Optimization (SEO) is to show Google how you are more relevant and important than your competitors.
It is to make it easier for Google to connect you with your strongest prospects; those who are searching for what you offer.
---
How does Google decide where to rank you?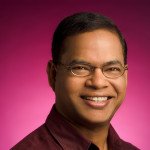 Our site quality algorithms are aimed at helping people find "high-quality" sites by reducing the rankings of low-quality content." – Amit Singhal, Google Senior Vice President and Software Engineer
In the early days of search engines, relevance was basically a matter of finding the page(s) that contained the exact phrase to match the search query. However, this very simplistic approach soon resulted in poor search results as the volume of pages on the web exploded. Today, hundreds of factors have an influence on how search engines determine relevance.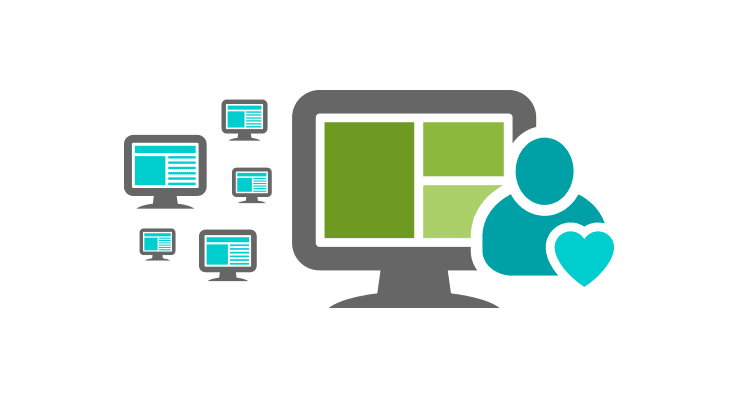 Importance is primarily interpreted as popularity by the search engines today. In other words, the more popular a website or webpage is, the more valuable that page must be. By making this assumption, search engines have been fairly successful in improving their search results by using certain metrics to determine importance.
It's important to note that relevance and importance are not determined manually by a person.
Google has created complex mathematical equations – called algorithms – to take many factors into account and come up with the search engine results. These algorithms are comprised of hundreds of factors.
Search engines do not make these factors public. The SEO industry attempts to reverse-engineer the algorithms in order to determine as many ranking factors as possible.
---
What is SEO like Today?
Relevance and importance need to be legitimately gained. Content marketing has become extremely important. Popularity is measured not only by legitimately-gained links, but also by social media signals, bounce rates of specific web pages, etc. Extreme care needs to be taken when building links to your website – don't make links to your links from bad sites or always using specific keywords. The SEO landscape is sure to continue to change as search engines get smarter. One thing is certain: The trend is that Google is rewarding people that make good quality content and get links from highly respected websites.
---
Why does my site need SEO?
The main search engines – Google, Bing and Yahoo – drive the majority of the traffic on the web. No matter whether your site provides products, services, or information, these sites are the primary way that most people navigate the internet.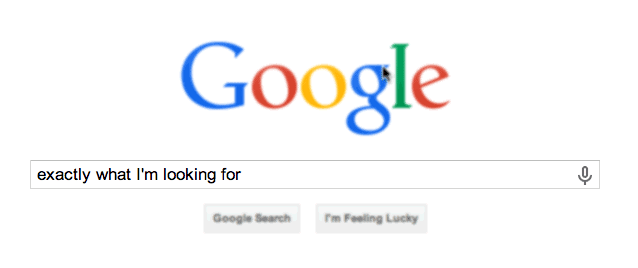 The great thing about search engines is that they can potentially provide targeted traffic. That is – people who are looking for very specific things such as: industrial ceiling fans, web designer in Elkhart, Indiana and eye laser surgery in (insert location here).
If search engines can't find your website (or they can't crawl the content of your pages), you will lose out on a huge opportunity. Why? Because "search queries", or the words that people type into the search box in Google (or Bing or Yahoo), carry enormous value. These targeted visitors can bring revenue, publicity and exposure the way no other marketing channel can. The investment you make in SEO (whether via time or money) can have a much better rate of return compared to traditional marketing methods.
For the 1,300 digital marketers who participated in the Econsultancy/Adestra Email Marketing Industry Census 2013 study, SEO was rated as the top marketing channel, with a total of 75% of marketers reporting it to deliver an "excellent" or "good" ROI.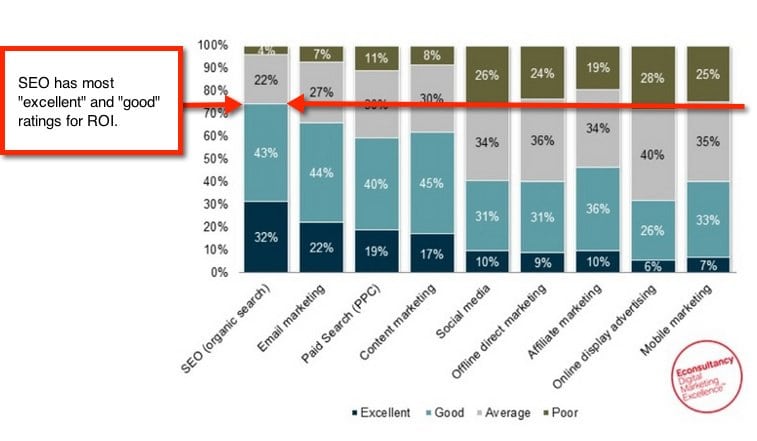 In MarketingSherpa's 2012 Lead Generation Benchmark Report, they found that SEO is the most effective tactic, although it is also one of the most difficult to execute.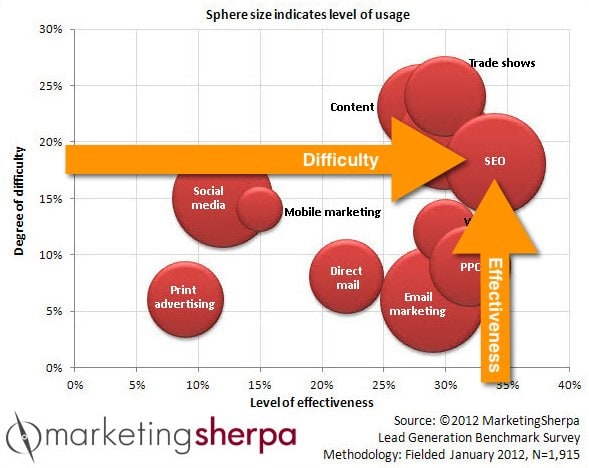 Instead of leaving your ranking to the wind, you can be intentional in showing Google what exactly you want to rank for and build a reputation with Google to get traffic for those things.
---
What goes into making SEO work?
There are 2 types of SEO: On-site and Off-site.
---
What is On-Site Optimization?
It is making your content more relevant to keywords you want to rank for and removing or minimizing things that prevent Google from understanding your content.
Here are the main types of tasks done in "On-site Optimization":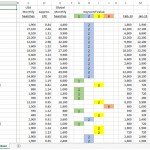 Keyword Research – Before you do anything, ask: How many people search for my types of products or services? It's only worth your time to do SEO if you can get website visitors and leads/sales, right? Taking a look at competitor's keywords can also help you define your list of keywords that are actually searched for.
Keyword Mapping – this is the process of assigning certain keywords to the pages most relevant to those keywords on your website. This is part of telling Google which pages should rank for which keywords or subject.
Once Keyword Mapping is done, you can "optimize" page titles. It's simple: just change the titles of the pages to include your keywords.
Make sure you are not competing against yourself. This happens when multiple pages on your site are telling Google they are all about the same thing. This makes it difficult for Google to know which page to rank for. You can generally fix this by not having multiple pages use the same keyword in the title and by doing "internal linking" properly. Help Google see a clear choice as to which page should be ranked and for what keywords.
Internal Linking – It's simple: Other pages on your website have links in their content to your important pages using wording related to the subject of that important page.
Allow Social Sharing with buttons – When people share content, it's because they like it. Shared content is seen by more people and therefore people tend to link to it. Links to your content tell Google that it's important to people and is probably good stuff.
Blogging on your own website – Google likes website that continually publish good, original, insightful content that people want to read. Google does not want to refer people to stale sites.
Eliminate any technical roadblocks that stop Google from indexing.
Be aware of the things not to do on the The Comprehensive SEO No-No's List.
Make sure any redirects are working for the good of your Google ranking. Redirects are rules that tell Google, "this page moved to here". Google hears it and updates its record of where the content is located at. Sometimes redirects are not setup when URLs change (like during a new website launch) and old content is lost or Google can't find it. For more on this, see 7 Necessary Ingredients to keep Google ranking when launching a new website.
Local Search Optimization – If you have a physical location that you want customers to come to, this process helps you show up in Google Maps and other local-type search engines. More on this here: Google Places & Local Listings.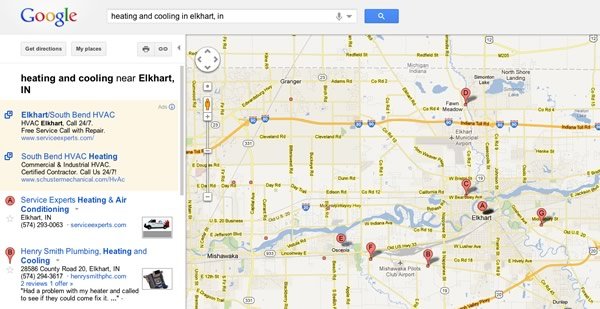 ---
What is Off-Site Optimization?
It is making your website more "important" to Google by having a strong reputation online. Strong reputations are grown by getting good links from other reputable websites.
How much off-site SEO work is required for you to outrank competitors depends on how strong your website is compared to theirs.
Here are the main types of tasks done in "Off-site Optimization":
Guest blogging – Establishing a relationship with a reputable and relevant online publication in which you can write an article for and get a link to your website on. Google interprets a link from a high-quality website like a referral from a highly trusted person.
Researching competitors' links and acquiring similar links from the same websites to your website. A good example of this is when you discover all the associations or related, unbiased websites that have chosen to link to your competitors. Well, many of those websites would be happy to link to you too. So, you identify these opportunities and go get links from them. To be clear, we're talking about getting links from websites that are relevant to your website and have a good reputation.
Other Link Building – There are many relevant websites that would like to link to you.
Optimizing Profiles – Make sure that any profiles you have set up on other websites link to you using best practices for link building.
Preventing any over-optimization – An example of over-optimization is writing a press release and linking an important keyword like "web design" to my company. All of a sudden, Google sees hundreds of links that all say "web design" pointing to my website. That looks like I'm "cheating". Don't try to cheat or look like you are trying to cheat.
Participating in online conversations by posting some comments on articles.
---
What do I need to know about SEO in order to win?
We've designed a series of 8 walkthroughs that teach you all you need to know in order to do SEO yourself.
Know the Right Keywords
Gauge Your Competitors
Help Google Love Your Website
Content marketing
Local Listings
Get Links/Build Authority
How Social Impacts Your Ranking
Staying in the Know
---
Can I do SEO on my own?
Yes! Once you have completed each of these walkthroughs, you will be empowered to influence your own ranking and grow your business.
But you're not alone.
Our goal through training from the Empowerment Series: SEO is to equip you to do SEO on your own. But if you run into a problem, or decide you'd like extra help in some way, we're always available to help you.
---
The Next Lesson
You are ready to move on to the next lesson: Know the Right Keywords.
In this next lesson, you will accomplish:
Having a complete list of all the keywords relevant to your situation that people are actually searching for so you can be totally confident in your keyword choices.
Identifying and remove keywords that are not worth your effort
Knowing the traffic potential of your keywords
Being totally ready for the next lesson: Gauge Your Competitors
If you would like to be notified with the next lesson is published, just e-mail us at: partner@effectwebagency.com.
Thank You
We would really like to hear about your experience with our walkthrough. If you would like to give us feedback, please email us at: partner@effectwebagency.com.