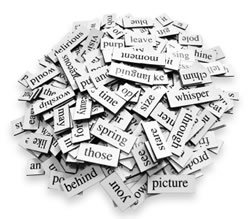 Too much text is cumbersome for users and detracts from the graphic presentation. On-site text is one of many SEO factors. Just like anything else: more doesn't necessarily mean better. There's usually plenty of room for improving the way you leverage other SEO factors to surpass competitors, improve rankings and increase website traffic as long as you have some on-page text. Having some text is important because it tells Google what your website is about.
Good rule of thumb for amount of text:
Have at least 200 words of relevant, unique content on your target pages.
Sure, you can rank well without it – if you are willing to do more work on the other factors. So if you have at least 200 words on your target pages, let's look at the…
Top 3 SEO factors you should consider before adding more text:
Page titles
You should make it clear to Google what each page is about. A page title should consist of the company name (shortened – if it's too long) and up to three keyword phrases. A page title should be no more than 65 characters long, because Google doesn't read anymore than that.
An example of a good title is: "Personal Computers, MP3 Players – Apple Inc.".
Before setting titles, assign 1 to 3 keyword phrases to a page. (I am assuming you have already done your homework on which keywords have good potential.) Remember to only assign a keyword (or phrase) to one target page. Do not have the same keyword in the titles of multiple pages. That only dilutes the focus of each page.
Internal linking
Since you control your own website, setting your links up in an optimal way is one of the easiest parts of SEO. First: if appropriate, change wording in your menu to use keyword(s). It's important to understand that Google only considers the first link in the page code in their algorithm. So, if you have 3 different links on your homepage that link to your most important internal page, Google will only give you the benefit of the text of the first link.
Then, make of list of your pages that are most important to Google for your specific target keyword. (You can tell these by which of your pages Google puts in results of a "site:yoursite.com + keyword" command). On these pages, make sure you have some keywords in the content that you can link to corresponding target pages. For example, if the Contact Us page mentions one of your service keywords (or if you can work it into the paragraph in a natural sounding way), link this keyword to the appropriate target page. By doing this, you are making it more clear to Google what pages are about and how important they are.
External linking
It's one thing to link to yourself and quite another for a reputable 3rd-party website to link to you. This is the most difficult, time-consuming, and rewarding factor in SEO. First, ask your dealers, distributors, vendors, associates, etc to link to you. If possible, have them link to you using your keywords and linking to the corresponding target pages. Next, we highly recommend writing unique articles (that contain a couple of your links) and syndicating them to Hubpages, Squido, and EzineArticles on a frequent basis.
Need help?
If you'd like our team to take a look at your specific situation and provide guidance, please contact Effect Web Agency in Warsaw Indiana. Our SEO consultant and director, Shawn Nafziger has been working exclusively in the SEO world for over 10 years.