Last August, Google made an announcement via one of their blog posts. According to the post, they planned to start penalizing mobile sites with intrusive popups. The article stated that the changes would take place starting in January 2016. Now that the targeted date has come and gone, some websites could start seeing a drop in their rank as a result. Since Google plans to make their mobile index their primary index, mobile-friendly sites are now a necessity for all businesses. Performance on mobile devices will directly affect search rank even for desktop searches. To compete for organic traffic, it is important for websites to meet the mobile-friendly criteria outlined by Google.
Google's Plan is to Simplify the Mobile Experience
Nearly 85% of all websites are now mobile-friendly. Because of this, Google removed their "mobile-friendly" label on the SERP, even though it still figures prominently in search rank. To make sure your website meets the standards specified for a "mobile-friendly" website, you should verify it using the mobile-friendly test they offer as part of their webmaster tools.
Now that Google has successfully "encouraged" websites to clean up for mobile users, they are taking it a step further. The use of intrusive interstitials that block underlying text will result in penalties by Google when determining rank.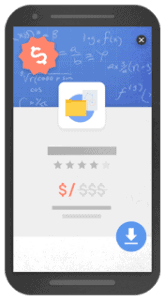 The idea is to get websites to make the user experience more straightforward and friendly. Even though popups may become a thing of the past, there are still several layouts that Google still considers acceptable.
You can place the pop-up above the main text on the page. Even better, you can create a "faux pop-up" by designing a box between page rows. The placement gives the optical illusion of a pop-up without the additional load times. In addition, according to Google's blog post, they don't plant to penalize sites that use a reasonable amount of space for app install banners.
Exceptions to the New Google Popup Penalty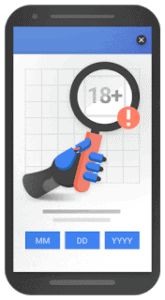 Despite the rigidity of the new rules, not everyone will be penalized. Google has made a few exceptions, but they lined them out quite specifically.
Age verification popups  required by law

Logins behind a paywall that protect private content
The only interstitials Google considers necessary are those designed for safety or security. Obviously, you don't want underage viewers to enter areas not legally accessible to minors. It's also important that login credentials are verified for sensitive information such as banking and medical records. However, these applications remain limited.
 If you are in doubt about whether or not your mobile site meets the new criteria, ask these questions:
How long does it take your site to load? Most consumers expect a mobile page to load in 2 seconds or less. Test your site using Google's

mobile-friendly tool

which now incorporates the older

Page Speed Insights

.
Can a user immediately identify your above-the-fold content without scrolling down the page or closing pop-ups?
Does the user get interrupted by pop-ups as they scroll through the web page? Is it necessary for them to close out the box before they can continue?
Website Owners Must Adapt or Suffer the Consequences
If you find that your site is not mobile-friendly, or that it does not meet the new criteria set forth by Google, you need to fix the issues. As stated before, Google intends to make their mobile index their primary index. That means that your site's mobile performance directly affects your sites ranking on every type of device.
Over the next year, more and more websites need to begin shifting focus towards mobile users, as opposed to laptop users. This is especially true for B2C applications, where over half of all searches are made using a mobile device. Google seems determined to shape the internet through gentle coercion. First, they moved to encrypt the web and now they have set out to restructure the layout of websites. To avoid a drop in rank and a decrease in your web traffic, you have very little choice but to make the adjustments. Since Google's popup penalty is already in effect, the time to update your website is now.
Sources:
http://searchengineland.com/report-nearly-60-percent-searches-now-mobile-devices-255025
https://webmasters.googleblog.com/2016/08/helping-users-easily-access-content-on.html