There is no room for second place when it comes to search engine optimization. With 62% of all users clicking on results found on the first page of a search engine result page (SERP) making sure you appear on the first page is critical in terms of boosting qualified traffic to your website.

Let's take a look at some interesting data regarding click thru rates and SERP rankings: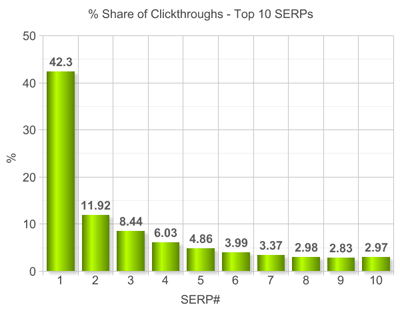 As you can see there is a huge decrease in CTR when you jump from the first to second ranking. There is also a large decrease in CTR in positions lower than fourth.
This data confirms that users simply are too busy to sift through pages of listings to find what they want. In most cases they will click on one of the top results or start a new query with different keywords to get what they are looking for.
To learn more about how to implement a SEO strategy that brings in the appropriate number of qualified visitors to reach revenue or lead conversion goals, read our SEO Made Simple series.