I see businesses struggle to get the value they need from their websites. The problem is that they don't use their sites strategically. Instead, their sites are like oversized business cards that only share information. Ironically, their sites often do the opposite of what they need them to do by overemphasizing aspects of their business that are not important. They never once consider their unique value proposition. Strategic marketing involves much more than search engine optimization or Google AdWords.
Customer Spotlight: Aquatic Weed Control
Case in point, I was talking to an acquaintance who owned Aquatic Weed Control. They had just redesigned their company's site, and he was discouraged by the outcome provided by his long-time web developer. It was expensive, and it wasn't doing anything to grow his business.
When we met up, he asked me, "What do you guys do?"
I said, "We build websites."
I got a nod from Jim, and I went on to say, "And we attract visitors to the sites. Then we work to convert the visitors into customers. We do real strategic marketing and advertising."
When he understood we make the website into a strategic marketing tool to align with his sales goals, he said, "That's what I want."
A traditional web developer's approach to updating a website often covers things such as how to make it look fresh, updating the sitemap, or asking what new features and functionality their clients want on the site. While those are needed aspects of a site rebuild, we take a different approach by asking clients, "How can this website contribute to your business?"
We become not just a technician, but a partner in their web sales and strategic marketing efforts.
Strategic Marketing Identifies Your Business Goals
That's where we started with Jim, identifying his business goals. Jim decided his goal was to grow the pond management segment of his business. That market is rather broad, so we went even deeper. After discussing it, we decided that the ideal client for Jim's pond management were the large subdivisions that several water features spread throughout their development.
His other work for the DNR, while a large part of his business, would remain secondary and less visible online. With that clarity and prioritization of his objectives in place, we were able to move on to the next step of reworking what they had in place. We rebuilt the site with the goal of converting visitors to customers.
Initial Website Teardown
Here is what AWC's homepage looked like before the rebuild: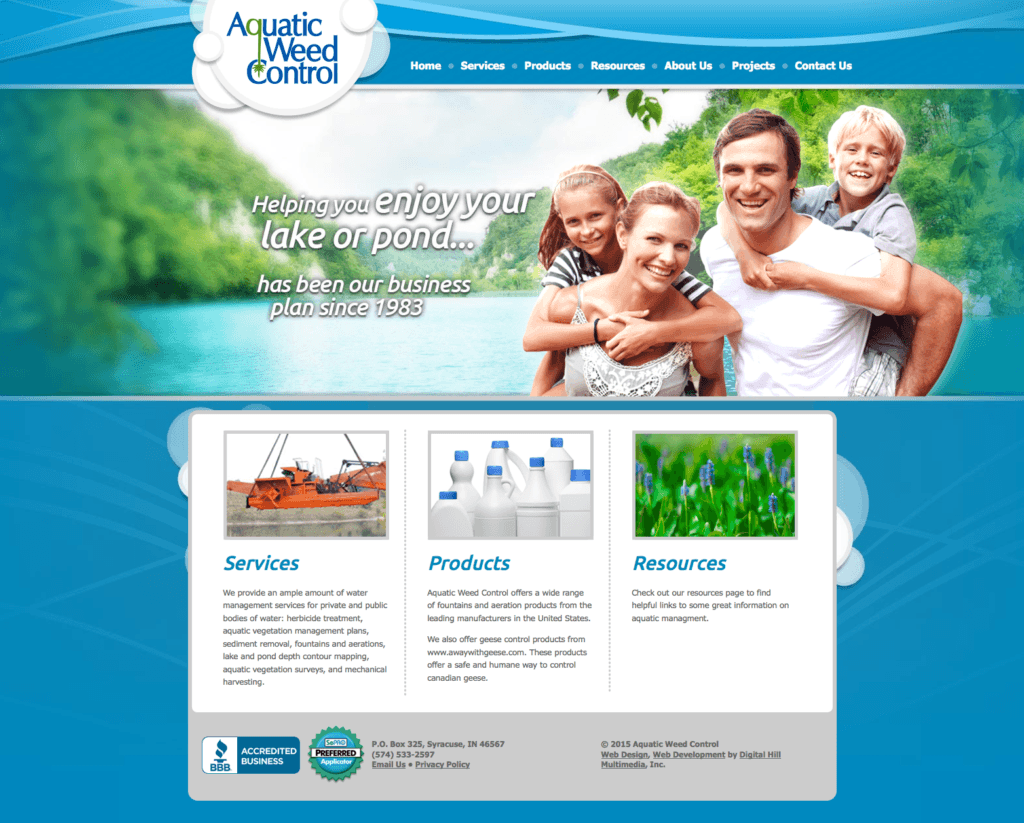 What's wrong with it?
You don't know the areas they serve (other than guessing based on their address).
The featured items are all wrong. "Resources" sends people directly away from the website, and their "Products" are available only as a byproduct of the services AWC provides, they should not be highlighted on the home page or any landing page.
No on-site links with services appeared anywhere. In some places, even "Contact Us" text is not hyperlinked to contact information!
The site had not been optimized for keywords and therefore did not rank as it should in Google.
Using our website assessment process, we proceeded to determine the best course of action to draw traffic to the site and increase onsite conversions.
The methods we use rely on answers to these questions:
What is your sales goal each month?
How many leads do we need in a month?
What volume of traffic do we need to hit this these numbers?
How are people currently getting to the website?
Where do we stand with Google's regular ranking?
What is the opportunity for us to get more traffic from Google search?
What kinds of on-website Google search engine optimization improvements can be made to access that opportunity?
How could we improve our Adwords & Remarketing campaigns?
What is the recommendation regarding Local Search listings?
How well does the homepage fulfill its purpose of:

Sizing up the offering
Communicating credibility and competence?
Helping visitors know what they can do?
Showing visitors the next steps?

How can we improve the offers and call to actions?
Does the site load quickly?
How can we improve on connecting it with Social Media?
Is the site mobile-friendly?
General Usability and other miscellaneous items
We walked away from this process with a laundry list of actionable items to carry out regarding our client's website. Initially, we proposed to make changes to their existing site, but the changes proved so extensive that he decided to have us start over from the beginning. For the new website, we focused on prioritizing the flow of free traffic from search engines and removing the largest barriers to conversion.
Fixing What Didn't Work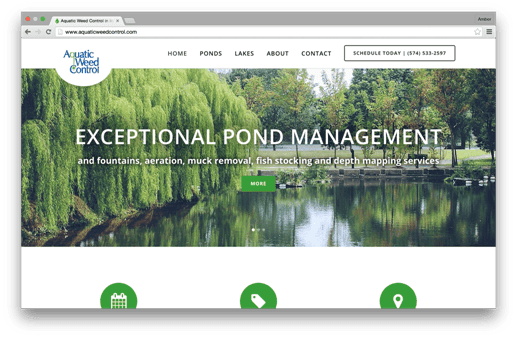 For the site rebuild, we focused on matching images with the target client. The images we selected featured clean and beautiful residential ponds and lakes. We also made sure the landing pages focused on the key points people needed to know to make the decision to call AWC.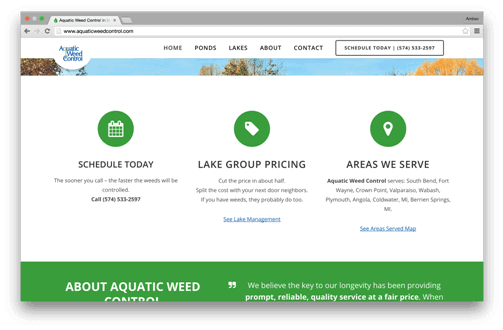 These key points included featured priority scheduling, group rates for communities, and identifying the geographic area AWC services. Sharing testimonials and highlighting credentials throughout the site was also crucial to increasing the credibility of AWC's expertise.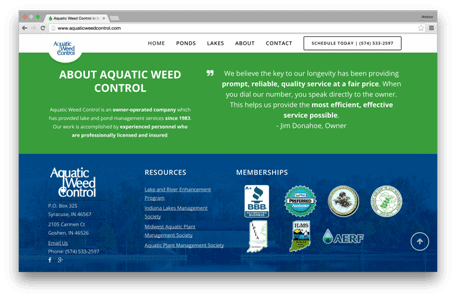 On the flagship landing page, "Pond Management" we led with an explicit promise from the business owner. We then used before and after images that were impossible to ignore. Finally, we addressed common questions potential customers have so that they already know what to expect before they even make a call to AWC.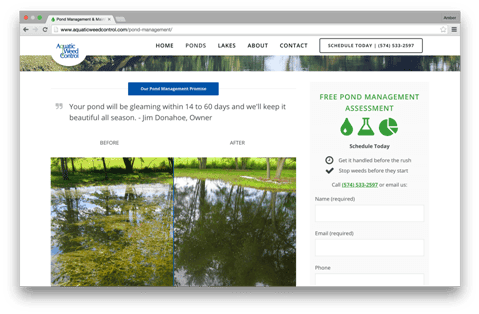 We wrapped that up with an actual map showing the area served and completed the basics of what every landing page should have by installing the CTA on every page.
On top of everything else, AWC's services encouraged a sense of urgency in their prospects. If they schedule early in the spring season, weeds are much easier to control and maintain throughout the entire year. Thus, our CTA included a seasonal encouragement to call sooner rather than later.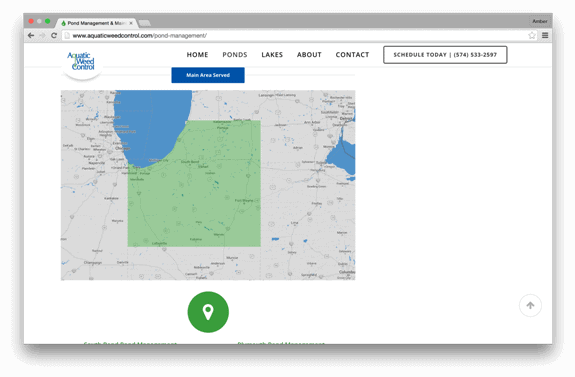 Sending People to the Site
With the site ready to receive visitors, we looked to search engine optimization to increase traffic. SEO efforts included analysis of keywords to identify a list of the top 10 most relevant phrases and the top 3 keywords for each service page on the new site.
With the keywords narrowed down, we made sure to optimize correctly and then freshened up their local listings. Finally, we launched their first Google Adwords campaign.
A Great Start
When we ran the ranking report a few months later, we were happy to see that most of AWC's top keywords were on Page One of the search results. We verified the result across three different locations we searched from in their service area.
They had gone from basically zero to first page Google results, and in some cases, featured as a #1 result!
Jim reported that the conversion side of things had seen a significant boost as well He has gained several large projects through web leads since the website launched. How empowering it is that such simple and strategic marketing consideration of the visitor's experience can lead to such significant results in just a few months!
What Can We Improve?
Subsequent ranking reports identified keywords that trailed behind the others and helped us identify solutions to increase traffic. For one of the keywords, we added deeper optimization through targeted copy and created a brand new article landing page. This new text gives targeted in-depth information to visitors right when they arrive at the site.
Now, it's a continuous process of making small adjustments, reviewing, syncing with the business owner, and doing that over and over again. This type of ongoing review and testing is vital to making your website a  significant marketing and sales tool.
Takeaways:
Clarifying business objectives and then completing a strategic website assessment is a crucial first step to making website-based online marketing work for you.
Relatively small actions can have a large impact on the results.
Collaborating and understanding the ins and outs of a business makes your web developer a valuable partner in bringing in sales.
Have you encountered the "traditional web designer" mindset that leaves strategic traffic and conversion techniques completely out of the conversation?
Effect Web Agency partners with businesses to help them achieve the maximum results from their digital marketing efforts. Contact Effect for you free web consultation.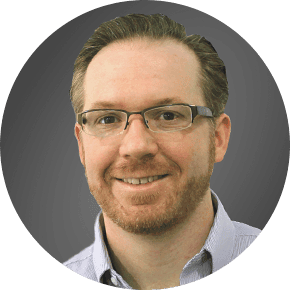 A comprehensive web strategy plays an essential role in the overall marketing plan. Not only does Effect create the online experience, we empower companies with tools to track results and measure ROI across all of their media mix.

Steve Schmidt, CEO

steve@effectwebagency.com