Effect was able to contribute to the development of an eCommerce web strategy for a local Elkhart business, Green Boomerang. This eco-conscious start-up plans to revolutionize the shipping industry with its sustainable handling and storage systems.

The main objective of our web strategy was to make things as easy as possible for Green Boomerang's target audience of engineers and sustainability leaders. We knew that engineers traditionally have to spend a lot of time researching information and pricing for containers. In the end, they almost always have to purchase containers from several manufacturers.
eCommerce Web Strategy: Identify the Client & Their Needs
Green Boomerang's new site seeks to offer a one-stop shopping experience. Green Boomerang is unique in the fact that they offer products from ten different manufacturers. Their site eliminates the need for engineers to buy from multiple sources. The site structure and navigation is also tailored toward the mindset and search habits of engineers. This helps them quickly find and confirm the right product for their applications.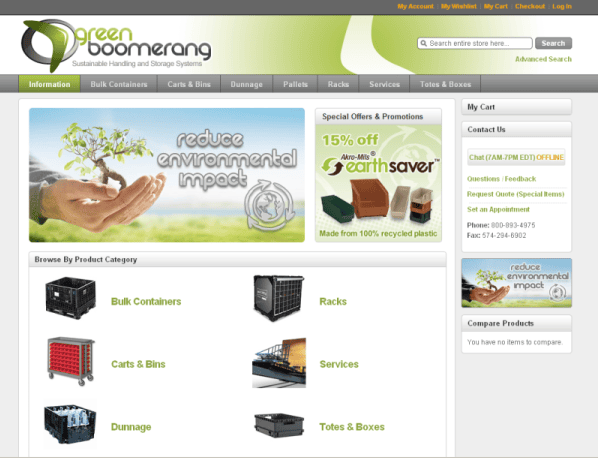 Magento eCommerce Platform
We started building the site using the award-winning Magento eCommerce platform. We chose to use Magento over other eCommerce platforms because of its ability to grow and expand alongside Green Boomerang, as well as its natural search engine optimization structure.
Future plans for the website include the addition of an interactive tool. This tool will aid the engineer in narrowing down product possibilities based on their application and advanced GPS capabilities.
Our ongoing relationship with Green Boomerang will allow us to track the performance of their site and modify their strategy to ensure their continued growth and success.
About Effect Web Agency
Effect Web Agency has been building sites for both large and small businesses for over 15 years. We are an Indiana-based web agency that specializes in holistic web design; integrating design, development, and marketing to create a more profitable tool for growing your business.