Steve Kasten runs a dog training business out of Elkhart, Indiana.  He provides a great service, but was having trouble growing. He had a very simple website set up, and was using Google Adwords to bring traffic to his site, but many of those visitors still weren't turning into web leads – they weren't converting.  So Steve came to Effect and asked for a website assessment in order to find out what was needed to reach his goals.  Here's what Steve had to say about the process:

Boy, did it work!
 Effect customized a plan and clearly guided me through the process."
Though Steve's is a direct to consumer small business, Effect's principles for web success remain the same for large and small businesses, whether B2C or B2B. The process begins by defining goals.  We learned about Steve's goals for gaining web leads, and assessed his website in that light, reviewing the critical factors that impact results.  With this assessment, we identified a number of adjustments that would make a significant difference for conversion of Steve's visitors into web leads (in this case, giving Steve a call or submitting an inquiry through his web form).
Website adjustments made:
Keyword research and implementation. Populating his titles and headings with targeted keywords directed additional search engine traffic to his site.
Getting a phone call from his prospects was Steve's desired goal. So we added his phone number to the titles of most of his webpages so the phone number actually shows right in Google results.
Putting his call to action (which also clarified expectations for the potential customer) into the sidebar on every page. This brought the next step front and center in every visitor's awareness.
Setup all Local Listings for Kasten Dog Training.  This insures easy traffic when local customers are looking for precisely what he offers.
Implementing landing pages. Effect reconfigured Steve's Google Adwords ads to send people to specific landing pages that were relevant to each ad rather than sending people to the general homepage, where they might get lost in details other than what drew them to follow the ad in the first place.
Adding more images throughout the site to help people visualize the solution that Steve's services would bring to them.
Recommended Steve pursue Google Places reviews (and showed him how).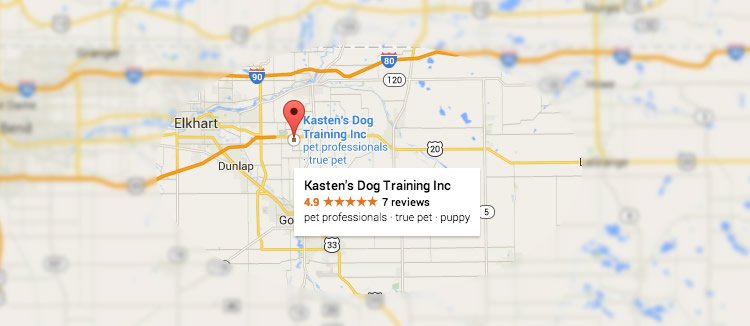 The Results
These suggestions are great examples of the simple go-to solutions we implement for many of our clients with wonderful results. Sometimes it is relatively small tweaks that make a world of difference. And wow, what a difference! Hear it from Steve himself!

We've had
more web leads in the past 6 months than the entire previous 3 years!"
– Steve Kasten, Kasten's Dog Training in Elkhart, Indiana
What are the simple website adjustments that could increase your website results?