Search engine marketing strategies should include local optimization. Google gives precedence to local listings in their search results. Therefore, local optimization is one of the least expensive ways to increase your rank.
"After local optimization… we are earning new customers every week." – Jon Nofziger, Owner
Three years ago Plain City, OH-based Nofziger Doors wanted to use online marketing to reach a broader urban community in Dublin, OH with their garage door sales and services. They came to Effect to with these goals in mind.
Local Optimization Increases Website Traffic
We advised them to refresh their website and add local optimization, which was particularly relevant for their goals. Several years later, Nofziger Doors still enjoys a first-place ranking for their industry, and because of the success they've had in Dublin, they are pursuing local optimization in another location as well.
The first step for their local optimization meant adding local listings to about 16 main search engines. These included the Big three –  Google, Bing, and Yahoo, all optimized for Dublin, OH. We then added to about 150 relevant directory listings and online phone books to improve online visibility and domain authority. The second step was to optimize their website with keywords and content for their target service area.  Once the initial work on optimization was complete, Nofziger Doors was enjoying plenty of work coming in just a few months later!
"In a highly competitive urban environment, hovering near the top of search results for your trade makes the difference between being a slow, stagnant business and having a busy phone line!  After optimization of our website, a search in our area works out very well for us and we are earning new customers every week." – Jon Nofziger, Owner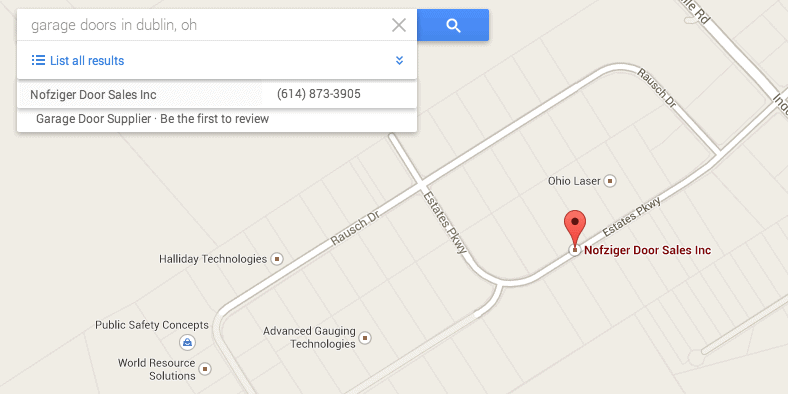 Takeaways:
If you have a brick and mortar location, then local optimization is a very effective strategy for you to consider. Local optimization also works well to define service areas within a region. In most local optimizations, it requires a one-time effort. A single investment can deliver big results.