"We made a great site, turned on ads and hardly anyone actually bought. All we could think was, 'What gives?' I felt like I was wasting money on web ads." – Doyle, Owner of Expressions Decor
Expressions Decor collaborated with Effect Web Agency to find out what was wrong and fix it.  Read on to find out the two game changing shifts they made in their ad buy plan.
Expressions Decor had spent a year crafting their website. When they turned on web ads a few months ago, they gained lots of fans, but only a few sales came in. What needed to change in order to get the sales they need to grow?
There were two types of ads running at the time that didn't produce sales: 1) Facebook ads and 2) Google Adwords. Here's how we collaborated to change their plan:
Step 1) Turn off Facebook Ads for now
The Facebook ads they ran got a lot of Likes (Over 16,000+) but almost no one was buying.
"Sure, I like having fans, but if there's no sales, what does it matter?" – Doyle, Owner of Expressions Decor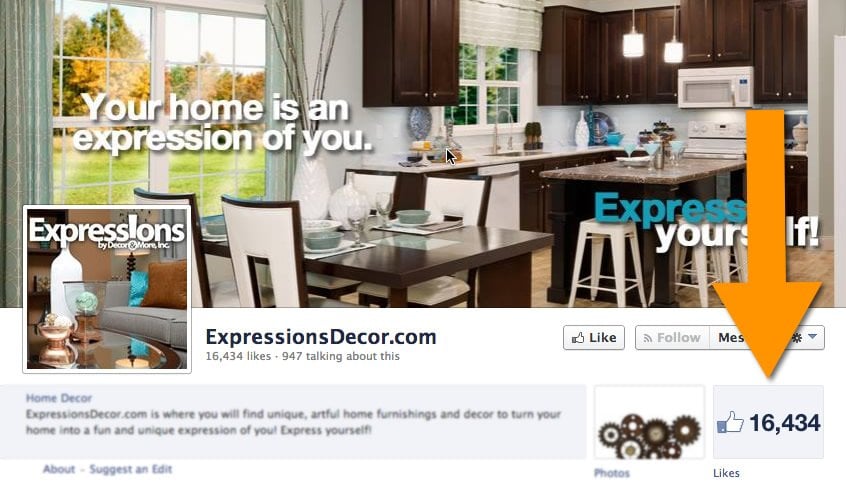 Facebook ads can be great for getting "Likes" quickly, but sales take longer to develop because you have to couple the ads with great content to build a community. Since Facebook for Business is about building a culture around your brand, it means posting consistent content and developing deeper engagement with people in order to see sales success. People are on Facebook to hang out, to get inspired and to learn. They do buy, but it's usually because of a long term relationship with someone.
Since Expressions Decor wants to get sales more quickly, temporarily turning off Facebook Ads now allows that budget to be redirected into a revamped Adwords campaign to boost sales fast. With that base, they can then revisit growing sales through Facebook with a more in depth strategy for building their culture and engaging their fans there.  When they do, they'll already have a great start with their audience of 16k "Likes" waiting for greater interaction — around customer service, decor ideas & inspiration, and of course, the products themselves.
2) Revamp the Adwords Campaigns
Adwords ads were configured to be very general – targeting keywords such as "furniture," "lamps," and "wall art." General ads will dry up a budget very quickly and produce little sales because the people searching with general terms are mostly in the state of browsing – not shopping. We changed the Adwords strategy to be very, very specific – because the more specific of keywords someone searches for, the better idea they have of what they want. Someone searching for "round black metal table lamp" is ready to buy, as opposed to someone searching for "table lamps."
The new plan is to make new "Product Listings Ads" on Google Adwords for most of the individual products they have. With these kinds of ads, the user sees a picture of the product before they even click. And since they only pay Google when someone loves their product and clicks, they'll get a better bang for their buck.
"With this, I believe we have a smart plan and have taken solid steps towards our big vision and I'm excited about that." – Doyle, Owner of Expressions Decor
Takeaways?
Make sure your traffic channel fits your timeline and sales goals
The more targeted your ads are, the better results you will get